One of US President Donald Trump's repetitive complaints about NATO was that the military alliance wasn't addressing what he considers the major threat facing the world: terrorism. In an evolution that was already underway but quickened under the harsh glare from Washington, the alliance has repackaged some of its activities and taken new steps to maximize its counterterrorism contributions.
Traditionally, counterterrorism has not been in NATO's job description. But neither was figuring out how to deal with "little green men" [masked, unmarked and green-clad soldiers in the 2014 Ukraine crisis] or internet trolls. The alliance is evolving to respond not only to genuine new and hybrid threats, but also to public expectations that it will provide security against nontraditional foes.
Afghanistan amps back up
When asked about NATO's counterterrorism role, NATO Secretary-General Jens Stoltenberg always points to the fact that the alliance continues to lead the international support mission in Afghanistan, after a dozen years of heading up combat against the Taliban and eventually "Islamic State"-linked fighters. While long, that battle is far from over. As Stoltenberg announced at Thursday's ministerial meeting, troop numbers will again rise.
British Defense Secretary Michael Fallon said the UK would be contributing a couple of hundred military personnel to that noncombat effort. "Transnational terror groups that operate in Afghanistan are a threat to us in Western Europe and are a threat to the continued existence of the Afghan state," Fallon said upon arrival at NATO headquarters. "We have every, every intent to constrain these groups."
But the Afghan war effort has not added up to enough counterterror credentials for either the Trump administration or some members of the public, who want to see results closer to home, regardless of how unrealistic this may be for the alliance.
Global insecurity necessitates new roles for NATO
The fact that NATO must now take on previously unenvisioned tasks is just the way it is, explained Bruno Lete, a transatlantic fellow with the German Marshall Fund's Brussels office.
"NATO member states recognize this is not NATO's core business," he said. "Nevertheless, the reality of today's threats require the alliance to think more creatively [about] how it can engage in this field as well. So I think it's positive that NATO tries to play a helpful role in counterterrorism, even if its contribution concerns mainly indirect measures."
The alliance has indeed made a dramatic shift in just the last couple of years. The most obvious example is in its approach to the US-led Global Coalition to Defeat ISIS (the US government's favored acronym for the "Islamic State").
In 2014, when the multinational coalition was created, some NATO allies were uncomfortable with the mere fact that the alliance's headquarters would be used for a coalition meeting. Germany, in particular, insisted that there would be no NATO connection to the effort; no NATO logos allowed in any media coverage, which was kept minimal. NATO officials explained repeatedly in the following years that there was no "need" to join the coalition itself, since all allies already belonged.

But with the added pressure from the Trump administration bearing down on NATO, arguments against joining the coalition were ultimately outweighed by the practical and political advantages, and last month the alliance finally slid into a seat of its own at the coalition table.
Speaking on Wednesday, the day before a defense ministerial meeting, Secretary-General Jens Stoltenberg touted the decision. "This not only sends a strong message of unity in the fight against terrorism," he said. "It also serves as a platform for practical cooperation. NATO is now fully integrated into the information-sharing and decision-making structures of the coalition." NATO had already agreed to a US request to make more use of the one AWACS aircraft allocated to coalition surveillance efforts.




Stoltenberg was also able to announce the activation of a new "Terrorism Intelligence Cell" within the recently created Intelligence Division, which will help coordinate information and activities among allies. Other measures cited as counterterrorism contributions include the expanded training of Iraqi forces and soon-to-come assistance for the UN-recognized Libyan government.
Daniel Keohane, a senior researcher at the Center for Security Studies at ETH Zurich, says the steps are mostly cosmetic. "Part of this is NATO adapting to Trump, showing its worth on his priority issue of defeating ISIS," Keohane told DW. "It gives the new US president an easy political win to sell at home: 'See I got NATO to do more to fight ISIS.' But I don't yet see how this will greatly change how the allies are fighting ISIS outside of Europe."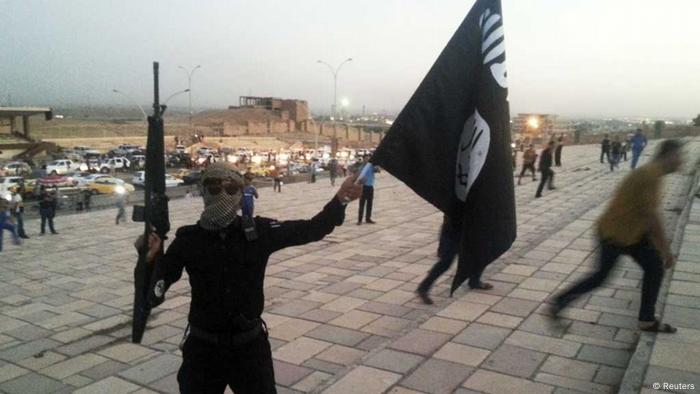 Public insecurity about - and US focus on - the "Islamic State" has led NATO to include more counterterrorism measures among its activities.
When it comes to fighting terrorism on its own territory, which is instinctively the priority of citizens in allied countries, the hurdles are also high for NATO to provide true added value. European governments are notoriously reluctant to share intelligence with each other, especially on issues as sensitive as terrorism, and do so almost exclusively bilaterally. Such issues remain in the hands of national governments, and within them, with police and security forces, and the judiciary.
Jan Techau, director of the Richard C. Holbrooke Forum for the Study of Diplomacy and Governance at the American Academy in Berlin, says the new counterterrorism initiatives are not entirely pointless, but neither will they be particularly effective. His bigger point is that counterterrorism should not be confused with NATO's core task of providing stability, nor should resources, including time and attention, be diverted to it.

"We should be debating other strategic issues, including transatlantic solidarity," Techau told DW. "We should not be discussing turning NATO into the primary agency for fighting terrorism."

Techau says that for NATO territory to be truly secure, innovations such as a new intelligence coordination cell inside alliance HQ won't help. "Transatlantic security ultimately is decided in the White House," he said. "And as long as there is lingering doubt about whether the person occupying the White House is fully dedicated to it or not, as long as that risk is still kind of looming in the background, we do have at least a lingering crisis, if not a real one."

Pew Research Center statistics from a poll published this week show high levels of doubt about the Trump administration in NATO nations and beyond.




But perhaps pressure from Trump has helped the alliance in other ways. A separate Pew survey shows opinions of NATO have risen sharply, on both sides of the Atlantic.