Retired Bundeswehr officers and defense experts have been swarming the German media voicing their indignation over last weekend's revelations in Der Spiegel that Germany would not be able to meet its NATO commitments because of hardware shortfalls.
The report was a particular embarrassment to German Defense Minister Ursula von der Leyen, who had just been to northern Iraq to meet Kurdish leaders, who Germany is equipping for their fight against Islamist terrorist group "Islamic State." She later admitted to a German paper that there were significant delays in getting spare parts to military aircraft and that barely a third of Germany's fleet was in working order.
It's not the first time that Der Spiegel has flagged up NATO's shortcomings. In June 2013, the German news weekly quoted an internal NATO document that pointed out 15 "problem areas," some of which had been apparent since the intervention in the Libyan civil war in 2011.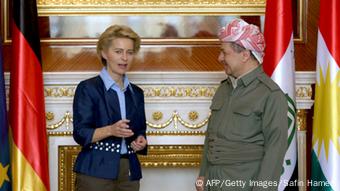 The Spiegel story forced von der Leyen to admit the shortfall
'Most of the allies need to do more'
That report highlighted shortfalls in almost all stocks including guided missiles, refueling jets, electronic jamming devices, and special forces equipment. "Most of the allies need to do more," then Secretary General Anders Fogh Rasmussen was quoted as saying.
Henrik Heidenkamp, senior research fellow at think tank Royal United Services Institute, is not fazed by the media panic in Germany. "This has been a general problem for some time, obviously," he told DW. "It's a just a consequence of the spending behavior over the past decades in Germany but also in other European states. There's clearly a gap between Europe's defense policy ambition and the size and spending structure of defense budgets."
Kathleen McInnis, security researcher for the UK-based Chatham House think tank, agrees that over the past 25 years, NATO has been getting more active. "The requirements on the military have been going up, but the spending has been going down," she told DW. "Now NATO is faced with a crisis on its borders, there's Ebola in Africa it wants to respond to, we've got 'IS,' we've got Libya. This is an unprecedented number of challenges."
Old problems
Complaints about budget shortfalls have been echoing around NATO at least since the end of the Cold War, and they usually come from the United States, which has always had to do most of the alliance's heavy-lifting.
They were last heard in 2011, just as the bombing campaign against Libyan dictator Moammar Gadhafi was being hailed as a success, when US Defense Secretary Leon Panetta told the Brussels-based think tank Carnegie Europe, "There are legitimate questions about whether, if present trends continue, NATO will again be able to sustain the kind of operations that we have seen in Libya and Afghanistan without the United States taking on even more of the burden."
The "present trends" that Panetta was talking about were cuts in defense budgets across the whole of the alliance, particularly in Europe, which at the time was still in the grip of an economic crisis. The particular problem highlighted by Der Spiegel - lack of spare parts - is itself to be expected, given the expense. "After the Cold War, the whole spare part policy in Europe changed," said Heidenkamp. "Armies used to have massive stocks of spare parts for conventional warfare with the Warsaw Pact, which are quite expensive, particularly if you don't use them."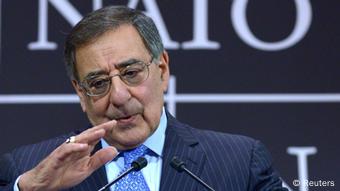 Panetta made similar warnings in 2011
Defending Europe itself
At the last count, only three European NATO members - Estonia, Greece, and the UK - were reaching NATO's defense budget benchmark: two percent of GDP.
The end of the Cold War has clearly paid a part - in 1989, the European average was 3.1 percent, by 1996 this plummeted to 2.3 percent - but that is natural enough, considering that defending European territory has not been a priority in the intervening years. But the pressure has increased now with the conflict in eastern Ukraine. Even if, as some argue, this was provoked by NATO and the European Union, the fear of Russia is once again a significant factor.
"What the Ukraine crisis basically did was it highlighted where the gaps in Europe's defense capability are," said Heidenkamp. "It really put people under pressure to take a more objective and perhaps less optimistic look at things."
"There's certainly indicators that NATO leaders are starting to take this current strategic environment much more seriously," said McInnis.
But, she added, at the end of the day, there is only one answer. "You can't do something with nothing," she said. "And Germany has been leading the framework nation concept, which would allow nations to spend more wisely and efficiently. These are great initiatives, but the problem is, unless there's more spending on defense, they're only going to get you so far."