Norwegian fisherman found a beluga whale outfitted with a mysterious, seemingly Russian-made harness swimming in Arctic waters.
Fishermen saw what seemed to be a tame beluga whale swimming between their boats last week. It appeared to be rubbing itself against boats in an attempt to remove a harness that was neatly strapped to its body, one of the fishermen told public broadcaster NRK.
Eventually, one of the fishermen jumped into the frigid waters to remove the harness from the four-meter (13-foot) mammal.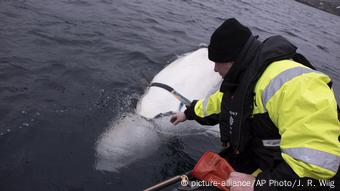 The Norwegian Directorate of Fisheries later said the harness had the words "Equipment St. Petersburg" written on it and that it had a mounting point for a camera. A spokesperson said the Norwegian military was interested in the incident.
Read more: 'Dolphin spy' allegedly captured by Hamas
Audun Rikardsen, a professor at the Department of Arctic and Marine Biology at the Arctic University of Norway, told the Associated Press that it is most likely that the Russian Navy in Murmansk is involved. Russia has several military bases near Murmansk on the Kola Peninsula, in the far northwest of Russia.
He earlier told NRK that no Norwegian scientists would have been involved in outfitting whales with harnesses. He also pointed out that several whales had recently been released from captivity in Russia.
A colleague of his told the broadcaster that the method involved suggested it was not Russian scientists who attached the harness, but more likely the Russian navy.
Read more: World's largest underwater restaurant opens in Norway
Scientists expressed concern that the white cetacean appeared to be tame, and could have difficulty adapting to life in the wild without being fed.
Russia does not have a recorded history of militarizing whales, but the Soviet Union did have a military program that used dolphins. In 2016, a public tender document showed the military was attempting to purchase five dolphins with good teeth.
aw/amp (AP, dpa)
Every evening, DW's editors send out a selection of the day's hard news and quality feature journalism. You can sign up to receive it directly here.