A statement by State Councilor and Foreign Minister Aung Sang Suu Kyi said on Wednesday that her office was signing an agreement with the Kofi Annan Foundation to set up a nine-member advisory commission to investigate "protracted issues in the region." The members include three international and six national experts.
The former UN chief said he was "pleased to support national efforts to support peace, reconciliation and development in Rakhine." His foundation would help in providing leadership to mobilize "political will to overcome threats to peace, development and human rights," Annan's statement added.
Myanmar officials also confirmed that UN Secretary General Ban Ki-moon would attend a peace conference beginning August 31 in Naypitaw to kick off the process. Suu Kyi is also expected to address the UN General Assembly in her trip to New York in September.
Officials omit using the word 'Rohingya'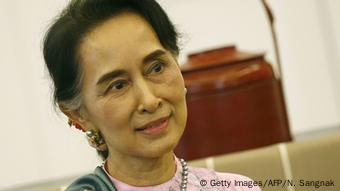 Myanmar's official statement did not name the Rohingya community, indicating the sensitivity of the issue. The document mentioned only "complex and delicate issues in the Rakhine state" and said the commission would "examine international aspects of the situation, including the background of those seeking refugee status abroad."
The panel would also "consider humanitarian and development issues, access to basic services, the assurance of basic rights and the security of the people of Rakhine." The investigation's conclusions and recommendations would be given to Suu Kyi's office.
Rohingya Muslims live in Myanmar's northwestern Rakhine state. However, they are considered outsiders and are not recognized as Myanmar's citizens. More than 100 people from the community were killed in clashes with Myanmar's Buddhist majority citizens in 2012.
Since then, over 125,000 Rohingyas have fled their homes and are living in squalid refugee camps with little or no medical care. Tens of thousands have left Myanmar in rickety boats, seeking refuge in other Southeast Asian countries.
mg/rc (Ap, Reuters)