Abdul Rashid, 47, watched helplessly as his wife Rukia's body stiffened and began to shake uncontrollably - her face contorted in pain as the convulsions raked her emaciated frame. His eldest daughter applied a wet compress to her mother's head, trying to hold her steady, while the younger siblings huddled together in a corner, whimpering silently.
Minutes later, the seizure was over. Rukia remained unconscious as the raspy sound of her labored breathing again filled the cramped thatched bamboo hut.
"I am worried that we will lose her," Rashid said, tears welling in his eyes. "She has been like this for three months now, but for the Rohingya there is no one to turn to for help except Allah."
Rukia, 43, needs urgent medical care to survive but there are no doctors available at the overcrowded Ohn Daw Kyi camp for internally displaced persons (IDPs) on the outskirts of Sittwe, the capital of Myanmar's Rakhine state. The family was forced to move here in 2012, after their home was torched by a Rakhine Buddhist mob - part of a deadly wave of sectarian violence that left hundreds of thousands of ethnic Rohingya, a predominantly Muslim group, confined to IDP camps and bleak villages.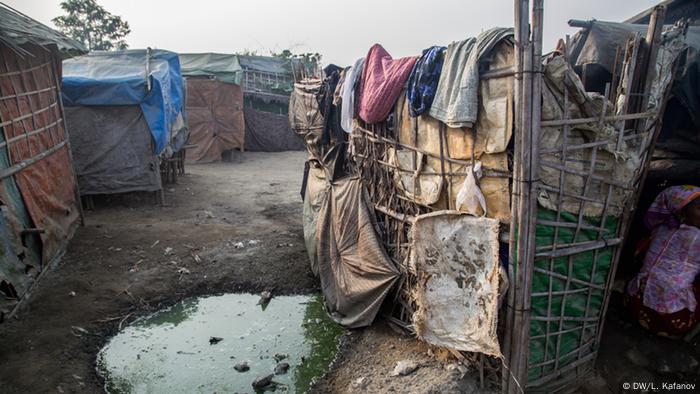 Tens of thousands of Rohinya have been forced to live in squalid camps
Left behind
Denied citizenship and voting rights as well as access to proper medical care and education, the Rohingya have been largely left behind in Myanmar's widely-lauded transition to democracy following a November election that swept Aung San Suu Kyi's National League for Democracy (NLD) to power. The vote may have helped to end more than half a century of crushing military rule, but there are few signs of change on the horizon for the Rohingya.
At a madrassa near Thet Kay Pyin village, Rohingya children were busy memorizing verses from the Koran. Kober Ahmed, the school administrator and Burmese language teacher, lamented the lack of higher education opportunities for the 500 students he oversees. Travel restrictions and poverty make it difficult for Rohingya children to attend high schools and authorities have banned the Rohingya from enrolling at Sittwe University.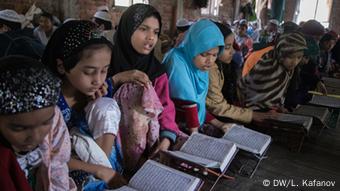 Only very few get the chance of a higher education
In the aftermath of the 2012 violence, tens of thousands of Rohingya have fled Myanmar by boat in a desperate attempt to find refuge in other countries. Hundreds have perished along the way or at the hands of human smugglers. Ahmed told DW that 12 of his students died during the exodus last year while 30 others are still missing.
"We try to counsel them to stay here [and to] have patience, but what do you tell a young person who has no freedom of movement, no opportunities, no human rights?" he said. "We expect Aung San Suu Kyi to do the right thing for us, but it is hard to stay optimistic - she hasn't spoken up so far and she has never acknowledged the existence of the Rohingya people."
Little to expect
There is little indication that the NLD-led government, which will take power on April 1, will prioritize the plight of the Rohingya over the plethora of other challenges it faces, including multiple ethnic separatist insurgencies, corruption and economic stagnation due to years of neglect by the military junta. While some have held on to the hope that "The Lady," as Suu Kyi is known here, will address the inequality and discrimination faced by the Rohingya, there is a growing sense of apathy within the community.
"The Rohingya were not able to vote in this election and the NLD did not let a single Muslim candidate run for office, so who will advocate on our behalf when we have no voice in government?" asked Sayeed Arkani, a Rohingya activist and Thet Kay Pyin resident.
Government officials say the majority of Rohingya, whom they refer to as "Bengalis," are in fact illegal immigrants from neighboring Bangladesh - an assertion vehemently denied by the Rohingya, many of whom can trace their ancestors back to Myanmar, previously known as Burma, for several generations. The far-right Rakhine Arakan National Party (ANP), which won most of the local assembly seats in last year's elections, denies employing discriminatory policies and insists the Rohingya are confined to camps for their own protection.
"These people are real deal illegal migrants who are breeding too much and trying to overtake the Rakhine population," said Tun Aung Kyaw, secretary general of the ANP. "They get very good treatment from international organizations in their camps - too good, if you ask my opinion - and it is safer for everyone if they remain there."
Bias and restrictions
Rakhine is Myanmar's second-poorest state and its residents - Buddhists and Muslims alike - have suffered from years of underdevelopment and neglect from the central government. Travel restrictions and segregation have left the Rohingya almost entirely reliant on aid, which has fueled resentment and a false belief by the Rakhine population that international donors favor the Muslim communities. In this climate, some relief groups, including Doctors Without Borders, were forced to temporarily suspend their activities in 2014. While most have resumed operations, the perception of bias and new restrictions on foreign NGOs have translated to a reduction in humanitarian aid to the Rohingya.
As a result of restrictions and bias, humanitarian aid has almost trickled to a stop
"The only improvements the Rohingya have seen are more toilets and water pumps," said one longtime foreign NGO worker who requested anonymity due to the sensitivity of operating in Rakhine state. "When it comes to access to food, medial care, education - it's all going downhill."
While the World Food Program (WFP) still provides food aid to registered IDPs, an agency-wide funding shortfall has seen a reduction in assistance. Meanwhile, some desperate Rohingya - like Abdul Rashid - say they've been forced to sell their rations in an attempt to raise money for other priorities, like urgent medical care.
Rukia is unable to walk and transportation to the nearest local clinic costs 10,000 Myanmar Kyat (roughly $8) each way. Rashid says he managed to raise the funds, but the staff nurse informed him that Rukia would need to travel to a different clinic in order to get a referral to Sittwe General Hospital. Even if the family managed to obtain the referral and permission to travel to the hospital, Rashid says the family is unable to afford it.
"We sold everything we could," he told DW. "There is nothing left."
Reporting for this article was supported by a grant from the International Reporting Project.