Joshua Htet had always dreamt of returning to Myanmar. Having studied and worked in the United Kingdom for 16 years, the 34-year-old lawyer finally returned to his birthplace in 2016. "It's been really good to be back," Joshua told DW in Yangon. "I assume that everybody wants to return if circumstances allow."
Joshua is one of many Myanmar nationals returning from exile after living overseas for years. Many of them gave up comfortable lives and good jobs to help Myanmar move forward. And even though the Southeast Asian nation faces serious challenges, all of them are drawn by the significant transformation the country has undergone since 2010.
Joshua realized his return was near when he secured a job at Allen & Overy in 2012. The international law firm, headquartered in London, was considering opening an office in Myanmar. Joshua had just completed law school and a postgraduate degree in human rights. "I worked four years in the UK and then moved here."
Giving back
Joshua earnestly wishes to help his country, which was isolated from the outside world by a military junta for decades. "Sometimes you're not sure if what you're doing is helpful," he said. "But there's an underlying desire to see this country change. You've been so privileged to get out of the country and to get all these scholarships. Therefore you want to give back."
Many of the returnees are drawn by Myanmar's economic development, which has seen an annual economic growth of 6-8 percent since 2012, while others are attracted by new political freedoms. The returnees say they have something to contribute, as they understand both Myanmar and the outside world.
About six years ago, Min Zaw Oo, the executive director of the Myanmar Institute for Peace and Security, was asked to help with the country's peace process. Min was working in Afghanistan at the time. He had been preparing for his return since 2010. "I wasn't hesitant at all. I always felt I had to go back when the opportunity came."
Min had lived in the United States for about 20 years, where he did two Master's degrees and a PhD. In the past, he was involved with Myanmar's student protests, and fought against the military regime with a rebel group in the early 1990s. In 2012, he found himself sitting at the same table with his former enemies, negotiating a peace deal between the military and rebel groups who had been fighting for decades.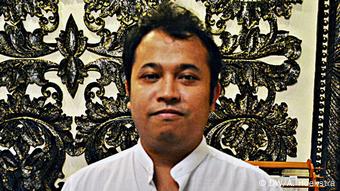 Joshua Htet is one of many Myanmar nationals returning from exile after living overseas for years
"The reason I came back is the growing civil space," he explained. "Now we have an opening of about 60 to 70 percent. We have political space. We have intellectual space. I'm here as an agent to expand that space."
After negotiating for over two years, Min's efforts paid off. A peace deal was signed with eight rebel groups. "The signing of the peace deal is the most significant part of my resume," Min said.
Best of two worlds
While the exact number of returnees remains unknown, it is believed that the number has increased significantly over the past few years. Some returnees had built up entire lives abroad.
Hnin Win and her family left in 2002. Hnin studied and worked in Australia, a world away from the poverty and persecution in Myanmar. In 2015, her aunt proposed opening a bar together.
"I always toyed with the idea of opening my own restaurant with my mom, but in Australia I didn't have the courage to do it," she said. "Here it's a cheaper investment. So I told myself, I'll give it a go for two years. If I fail miserably, I could go back to Australia. And I'm still here."
Hnin now runs Father's Office, a bar and restaurant in Yangon. She believes the biggest value of the returnees is their ability to pass on knowledge, skills and techniques to their countrymen who didn't have the opportunity to go abroad. "80 percent of my staff lack experience, but I still take them on and pass on my skills and knowledge to them. I'm helping them out and I'm really proud of that."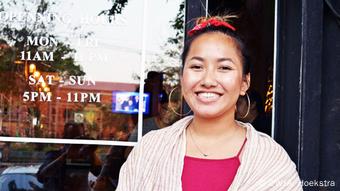 Hnin Win believes the biggest value of the returnees is their ability to pass on knowledge, skills and techniques to their countrymen
Still, it's not easy to rebuild a new life in Myanmar after living in exile for years. Min Zaw Oo said he's unsure about the future. "It's difficult to have career advancement in Myanmar. But I don't want to go back. I want to keep trying."
Joshua Htet, however, is optimistic about his country's future. "Everything falls into its place to some extent."
Hnin Win is enjoying her life in Yangon, although she says it feels like she's living in two worlds. "Now I call this as well as Melbourne home. I'm so privileged."