Pope Francis called on the Supreme Sangha Council of Buddhist monks in Yangon on Wednesday to conquer "prejudice and hatred."
Speaking in an ornate room decorated with wood and gold carvings, the pope lamented that the "wounds of conflict, poverty and oppression persist" in many parts of the country as it emerges from nearly half a decade of military dictatorship.
"If we are to be united, as is our purpose, we need to surmount all forms of misunderstanding, intolerance, prejudice and hatred," he said.
The Sangha, Myanmar's highest Buddhist body, has sought to rein in radical monks blamed for inciting Islamaphobia in the country in recent months. Some of the animosity has been directed at the persecuted Rohingya Muslim minority.
Read more: Pope Francis pushes Catholic Church toward interfaith dialogue on travels
Earlier in the day, Francis delivered the nation's first-ever papal Mass before an estimated 150,000 people. He called on the crowd to "anoint every hurt and every painful memory" and promote "the reconciliation and peace that God wants to reign in every human heart and in every community."
"I know that many in Myanmar bear the wounds of violence, wounds both visible and invisible," he told the crowd in Italian that was translated into Burmese. He said the temptation is to exact revenge but urged a response of "forgiveness and compassion."
Read more: Pope faces tightrope act in Myanmar amid Rohingya crisis
No mention of 'Rohingya'
The pope's six-day tour of South Asia comes as Myanmar faces international condemnation over a military crackdown that has driven more than 620,000 Rohingya Muslims from the country's Rakhine state over the last three months. Many of the refugees are now in camps in neighboring Bangladesh.
Francis has come under pressure from rights groups to speak out about the alleged atrocities against the Muslim minority, which the US and the UN labeled ethnic cleansing.
Read more: Pope Francis meets Aung San Suu Kyi amid Rohingya crisis
In a speech on Tuesday, the pontiff called for "respect for each ethnic group and its identity" but avoided using the highly charged term, "Rohingya."
Catholic leaders in the predominantly Buddhist country reportedly urged him to respect the views of the Myanmar government and the majority of the population who do not consider Rohingya to be citizens, instead calling them "Bengali" — implying they are from Bangladesh.
Since arriving in Myanmar on Monday, Francis has met with civilian leader and former Nobel Prize Winner Aung San Suu Kyi and the country's army chief, Min Aung Hlaing.
Huge celebration
There are about 700,000 Catholics in the majority Buddhist country of 52 million. On Wednesday, thousands of Catholics traveled from across the country to see the pope in Yangon. Many wore traditional garb representing their ethnic group, waved Vatican and Myanmar flags, and sang songs as they waited for the open-air Mass to begin.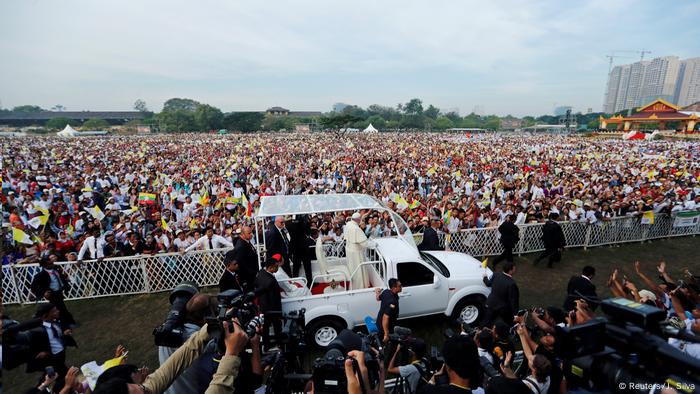 The 'pope mobile' was greeted by a cheering crowd at Yangon's Kyaikkasan Ground park
"We may never get such a chance again. The pope lives in Rome and we can't afford to go there," said Bo Khin, 45, a teacher who traveled from the city of Mandalay. "We feel very happy, joyful that he visited us in Myanmar."
Following the service, prayers were read by members of the congregation in the Shan, Chin, Karen, Kachin and Kayan languages.
Francis will meet Buddhist leaders later Wednesday and then speak to the country's Catholic bishops. He's due to travel to Bangladesh for the second leg of his trip on Thursday, where he will meet a group of Rohingya refugees in the capital, Dhaka.
nm/sms (AP, dpa, Reuters, AFP)