Myanmar's powerful army chief said Thursday the media has "exaggerated" the number of Rohingya fleeing a crackdown, a day after the UN accused security forces of a "systematic" attacks aimed at expelling the Muslim minority group.
More than 500,000 Rohingya have fled from Rakhine state to Bangladesh since August 25, when the army started military operations following militant attacks on security posts.
The UN Human Rights Office said Wednesday security forces in the majority Buddhist nation had murdered, raped, tortured, pillaged and burned down Rohingya villages and crops "not only to drive the population out in droves but also to prevent the fleeing Rohingya victims from returning to their homes."
Read: UN: Myanmar army systematically Rohingya so they won't return
But General Min Aung Hlaing, who wields immense power despite Myanmar's partial transition to democracy, downplayed the exodus of Rohingya and said the military response was proportionate.
"Instigation and propaganda" by the media has misrepresented the military crackdown, Min Aung Hlaing said in a Facebook post after meeting with US Ambassador Scot Marciel.
Using a derogatory term to describe the Rohingya, the general said "the native place of Bengalis is really Bengal."
"They might have fled to the other country with the same language, race and culture as theirs by assuming that they would be safer there," he said, referring to neighboring Bangladesh where Rohingya are packed into squalid refugee camps.
Read: Myanmar's Rohingya: A history of forced exoduses
Myanmar's government does not consider Rohingya citizens, referring to them instead as Bengalis from Bangladesh, despite their presence in the country for decades.
Min Aung Hlaing accused British colonialists of moving Rohingya into Myanmar from Bangladesh and said the minority had no claim to citizenship.
"They are not the natives, and the records prove that they were not even called Rohingya but just Bengalis during the colonial period," the general wrote.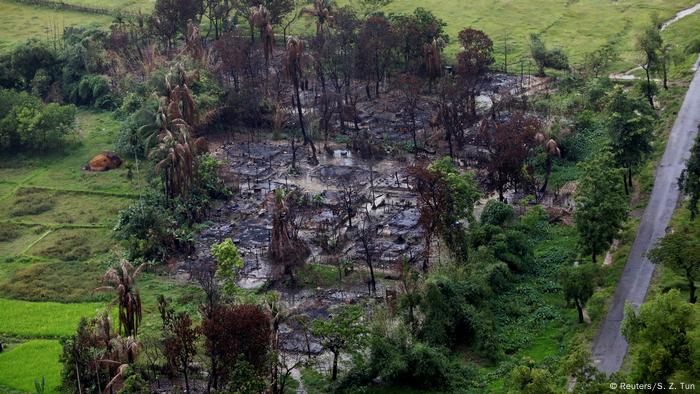 An aerial view shows a torched Rohingya village near Maungdaw, Rakhine state.
The UN report on Wednesday cited evidence that "clearance operations" started in the beginning of August, countering the Myanmar government's position that the army acted after Rohingya militants attacked security posts on August 25.
Min Aung Hlaing, while not referring the UN report, said Arakan Rohingya Salvation Army (ARSA) insurgents were against a citizenship verification program.
"Local Bengalis were involved in the attacks under the leadership of ARSA. That is why they might have fled as they feel insecure," he said.
The comments come amid reports that the United States and European Union are considering targeted sanctions on military leaders over the crackdown.
cw/kms (AFP, Reuters)