Munich's Catholic Church, however, has taken issue with the event, planned to take place in Munich's Olympic Hall on All Saints' Day, Nov. 1.

"The day is not a holiday so that people can have a party," Winfried Röhmel, spokesman for the Archdiocese of Munich and Freising, told the ddp news agency on Thursday, Sept. 13.

All Saints' Day is a "day of calm" on which public entertainment events are only to be permitted if they "respect the serious character of the day" or are permitted as an exception for "important reasons," according to Bavarian law.

Deplorable and disrespectful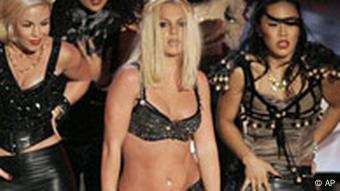 Britney Spears reaped harsh criticism for her performance in Las Vegas
"If someone like Mr. Timberlake only has time on All Saints' Day, then we toss our culture of religious holidays on to the trash heap," Röhmel said, according to Munich's daily Abendzeitung, adding that the city's decision to approve the event was "deplorable and disrespectful."

A spokesman for the archdiocese's Cardinal Friedrich Wetter, however, said he saw little hope of stopping the event through legal proceedings. He also said the Catholic Church opposed the event's date, not any of the individual artists performing at the awards.

Munich Mayor Christian Ude said the award show met the criteria for approval -- even falling on a religious state holiday.

"It is a one-time event, cannot be rescheduled and in happening only at the Olympic Park," he said. "No one is going to be impaired from going to church or visiting a cemetery.

"Of course, we would have preferred a date that didn't raise this problem," he said, adding that the award ceremony, scheduled for broadcast in 169 countries, was a "global event" of "enormous meaning" for the city.

More important than World Cup
Munich's mayor said the show would be of greater importance than the World Cup
Ude said he thought the event would be of greater importance to young people than even last year's World Cup.

City director Horst Reif also said Munich would stick by its decision to host the award show, saying "a lot of big cities would lick their chops" for the chance to host the annual event and that its venue outside of the city in the Olympic Hall will mean downtown residents "won't notice anything."

American rapper Snoop Dogg is to host this year's awards, the 14th to be held in Europe and third for Germany. US rock group Foo Fighters and London-based singer-songwriter Mika are among the ceremony's confirmed acts.

The Europe Music Awards (EMA) are the European equivalent to MTV's Video Music Awards, which were given out Sept. 9 in Las Vegas. EMA nominations are scheduled to be announced in late September and are decided by popular, online vote.