Protesters as well as Catholic bishops from Pope Benedict XVI's native Bavaria were not enough to convince MTV executives to cancel the cartoon after airing one trial episode last week to feel out public opinion. The rest of the 10-part, British-made series will begin airing Wednesday.
"Our decision is based in part on the reaction of the viewers who clearly voted in favor of its broadcast," an MTV statement quoted executive Elmar Giglinger as saying. A survey found that 78 percent of viewers wanted the rest of the series to be aired.
"Obviously greed for profits has beaten good taste," said Dirk Tänzler, head of the Alliance of German Catholic Youth.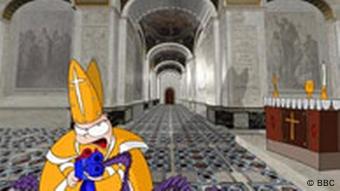 Germany needs stronger laws to protect religion, according to the Catholic Church in Munich
A court in Munich, in Pope Benedict XVI's home state of Bavaria, also rejected an injunction to stop the series. The injuction request had been filed by the city's Roman Catholic archdiocese, where officials had described the show as offensive to Catholics. "Popetown" depicts corrupt cardinals, a buxom nun and an infantile pope who bounces around the Vatican on a pogo stick.
Germany's self-regulating television watchdog, the FSF, did not file any legal objections to the show, saying that the series was not hostile to any religion.
Call for stronger laws
As a result, Winfried Röhmel, a spokesman for the Munich archidiocese, called on politicians to pass stronger laws against disparaging religion.
The cartoon, which was created before Pope Benedict was elected last year, has also been broadcast in New Zealand.