Gun sellers say that most customers want a pistol that can fit easily into a handbag or a small drawer in the night table. "People no longer feel safe, otherwise they would not be buying so many products here," says a seller in North-Rhine Westphalia.
For the last few weeks he has been selling - like many of his colleagues - an average of three times as many alarm, gas, and signal guns as he was prior to the attacks that took place in Cologne on New Year's Eve. The attacks, which targeted women, made international headlines and raised concerns about refugees among large segments of German society.
Germany has strict gun laws which stipulate that weapons may only be purchased under very specific circumstances. But with the so-called small arms permit, citizens are allowed to own weapons, such as gas cartridge guns or signal pistols. These may also be carried outside the home. The permit costs between 50 and 60 euros and the only restriction is that the applicant be a minimum 18 years of age.
"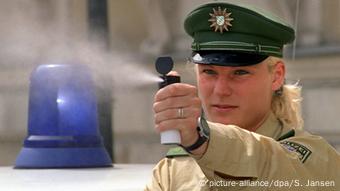 A policewoman aims a canister of pepper spray
The relevant police authority will conduct a comprehensive background check on the purchaser and only when they have a spotless record will the permit be issued," the specialized weapon salesman tells a customer. The purchaser openly admits to why she has come to the store. "I have a 23-year-old daughter that studies in Cologne, and she has always wanted to celebrate Carnival. Now she is a little scared."
Online gun purchases
Felix Beilharz, a social media expert from Cologne, says that online trends illustrate the dimensions of the insecurity: "There has been an increase of at least 1,000 percent or more in Google search queries for gun permits since January," says Beilharz.
Currently, those offering self-defense courses are also profiting from the concerns and fears of many German citizens. Many such courses are booked out for the next several weeks - that was not the case a year ago.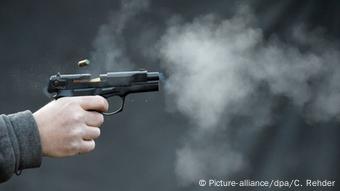 Gas pistols are a very popular item at the moment
Internet videos provide insight into the attitudes of those purchasing weapons. One, for instance, features an elderly man in his living room, first he passionately defends the USA's laws protecting the right to bear arms, and then he bluntly states: "Carrying arms is also necessary in Germany, because our police can no longer protect us from burglars."
Police are taking a wait and see approach to the current trend of citizens openly proclaiming their lack of confidence in state authorities. Rainer Wendt of the German Police Union (GdP) commented that "of course we are very concerned because the numbers that we are seeing are astonishing." Nonetheless, he says that all in all there is no need for alarm. "Less than 0.2 percent of Berlin residents have applied for a small arms permit."
Police have no intention of keeping citizens from arming themselves, Rainer Wendt says: "No way. It is permitted by law." Wendt is also strictly against tightening existing laws. "That is the wrong way. People are mature enough to deal with the situation."