Finland is home to over 50,000 lakes, endless forests, elk, reindeer and a people who are fond of vodka and heavy metal music. That, at least, is the way Finland presented itself when it took up the European Union presidency this past summer.
Finnish Prime Minister Matti Vanhanen and his team were perhaps a bit idiosyncratic, but definitely pragmatic in how they went about EU business for the six-month term.
Listening to all those double-vowel combinations in Finnish, however, was a bit difficult to get used to. The EU president's team ended up installing an online guide so broadcast journalists could get the pronunciation of Vanhanen's name right, as well as that of Foreign Minister Erkki Tuomioja and Tarja Halonen, the country's head of state.
Lebanon crisis rather than Russia agenda
Creating new partnerships with resource-rich Russia was supposed to top the to-do list of Finland's EU presidency, particularly since they share a border. Instead, Foreign Minister Tuomioja was forced to kick his diplomatic skills into high gear in handling the crisis in Lebanon.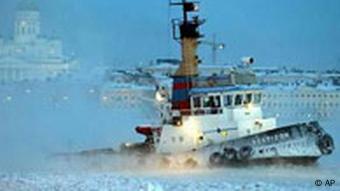 Cold is really cold in Finland
Relations with Russia ultimately deteriorated during the Finns' time at the EU helm. The unsolved murder case of Russian journalist Anna Politkovskaya, Russia's conflict with Georgia and Poland's argument with Russia over energy and trade due to a spat over meat imports all served to make Finland's path decidedly rockier.
Nonetheless, following a meeting with Russian president Vladimir Putin, Prime Minister Vanhanen said that the EU and Russia belonged together.
"Russia needs our markets," Vanhanen said. "It needs us as much as we need it in many areas. We are deeply entwined with each other, and both sides use that to their advantage."
Success at the finish line
Despite the difficulties along the way, the Finns did rack up one major success at the end of its presidency. Tuomioja managed to prompt EU foreign ministers to reach an agreement on a common EU position concerning Turkey's accession to the bloc. Member-states said they would freeze negotiations on eight out of 35 policy areas, primarily due to Turkey's refusal to open its ports and airports to EU-member Cyprus.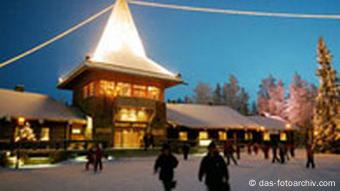 "Santa's" house during polar night in Finland
Two major laws were also passed during Finland's six months. After years of intense debate, the European Parliament passed rules deregulating the EU's service sector.
Under the Finnish watch, EU lawmakers likewise passed a controversial bill to curb the use of hazardous chemicals. The so-called REACH legislation requires EU businesses to prove that the chemicals they use or manufacture do not present a danger to human health or the environment.
The Finnish EU leadership also succeeded in getting other initiatives up and running, especially in the areas of research and in certain mobile phone charges.