The Finnish presidency announced that the ministers had reached a "deal on a common EU position concerning Turkey's EU accession negotiations," which will see eight of 35 policy chapters in its membership talks frozen.
The union made the move following Ankara's repeated refusal to open its harbors and airports to Greek Cypriot ships and planes as it must do under a customs agreement with the 25-country bloc.
"We have avoided a crisis over Turkey" at the summit of EU leaders starting on Thursday, beamed Austrian Foreign Minister Ursula Plassnik, as they clinched the deal in defiance of all expectations.
The talks had begun at around 9:30 a.m. (0830 GMT) and ran through a morning session, lunch and into the early evening, when the deep divisions over Turkey's candidacy were finally overcome, for now.
"Our view was that this should be settled today" said Irish Foreign Minister Dermot Ahern.
Trade ties with Cyprus
Key to the deal was a revision proposal from Finland under which the European Commission would constantly monitor Turkey's progress on normalizing trade ties with Cyprus.
The talks were "very complicated," an EU official said.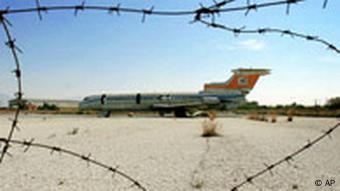 Cyprus has been divided since Turkey invaded the northern part of the island in 1974
The Greek Cypriot government holding the southern two-thirds of Cyprus is internationally recognized as having sovereignty over the whole of the island but does not control the northern third, where a Turkish Cypriot government is recognised only by Ankara.
Cyprus and its ally Greece, among those most angry at Turkey's refusal to open its harbors and airports to Greek Cypriot craft, had demanded that a date be set at which the sanctions could be toughened if Ankara makes no progress.
In an effort to avoid further angering Turkey, the ministers also discussed whether to include a note in written conclusions on their talks that the EU would work to bring an end to the isolation of northern Cyprus.
Turkey has refused to normalize its trade ties with Cyprus until the EU makes good on a promise from 2004 that it would help improve the livelihood of people in the Turkish Republic of Northern Cyprus.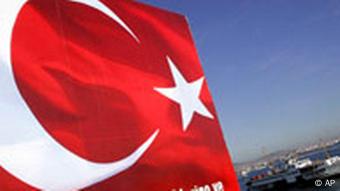 A ferryboat sets sail in the Bosporus in Istanbul
The dispute is one of many to have plagued Turkey's EU membership talks since they began just over a year ago.
No member state denies the geopolitical importance of encouraging reform in a mainly Muslim but secular country led by a moderate Islamic government which straddles Europe, the Middle East and the volatile Caucasus region.
"The decision we will take, or not take today, is very important -- a strategic question -- so now is not the time to rush things," Spanish Foreign Minister Miguel Angel Moratinos had said before the meeting.
Surprised
Turkey's EU talks were always going to take at best a decade and membership is not assured, but the sudden shift to action has surprised Turkey.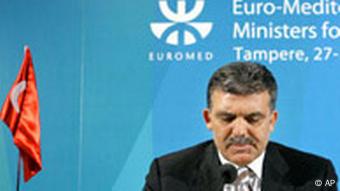 Turkey's Foreign Minister Abdullah Gül
"I cannot help wonder whether Europe is really aware of the consequences of not sustaining the accession process at a time when a modern and prosperous Turkey is becoming increasingly relevant to the well-being of the European Union and beyond," Turkish Foreign Minister Abdullah Gül told the International Herald Tribune on Monday.
The biggest problem facing the ministers had been that questions of EU enlargement must, in almost all cases, be resolved with unanimous agreement.
Britain, Estonia, Italy, Spain and Sweden -- Turkey's traditional allies -- had only wanted three chapters frozen; those most closely linked to its customs relations with the EU.
Austria and Cyprus wanted more, while Greece demanded that a strict timetable be established for monitoring Turkey's progress.
"Today is not just about Turkey which is the subject of the debate, it's also the EU's credibility," Luxembourg Foreign Minister Jean Asselborn said before the meeting in Brussels got underway.