An overnight ambulance crew came across the bedraggled dog lying on the side of a motorway outside Zurich, around 400 kilometers (248 miles) from her German home, Swiss authorities said Tuesday.
The adventure-seeking canine appeared to be in a bad way and suffering from hypothermia, so they drove her to a nearby animal hospital for treatment.
"They administered oxygen with an oxygen mask and wrapped her in blankets to warm her up," ambulance service spokesman Roland Portmann said.
Authorities were able to learn from an implanted chip that she was Rapunzel, a 9-year-old German shepherd who was reported missing in mid-August from the town of Hösbach, near Frankfurt, western Germany.
Read more: 10 dog breeds that originated in Germany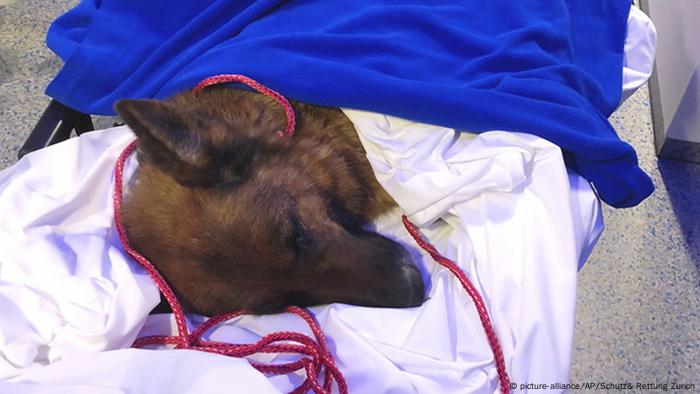 Rapunzel is recovering in hospital after being found on the side of the road with a range of serious injuries
Mammoth trek
The dog's owner, Jasmin Ehret-Väth, told German news agency dpa she couldn't believe her pet was capable of such an epic journey.
"She is really not athletic at all and lazy as anything," she said.
Read more: Pug meeting: Curly-tailed athletes face off in Berlin
Rapunzel apparently skipped town during a visit to a local vet six months ago. Ehret-Väth said her family had posted missing notices in newspapers, and although there were reported sightings along her dog's likely travel route, they hadn't managed to pin down her whereabouts.
"Every time we gave up on the dog, someone saw it," Ehret-Väth said, adding that she had visited Rapunzel in hospital and hoped to take her back home in a few weeks.
"She was completely stoned from the pain medication, but she recognized me immediately," she said.
Read more: The most iconic dogs from the art world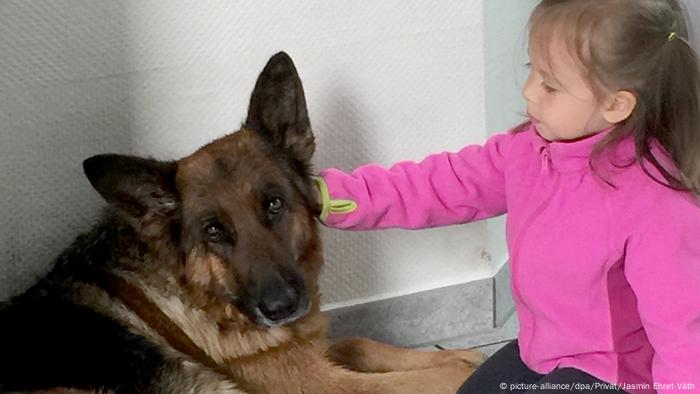 Rapunzel will soon be reunited with her family in Hösbach
'Brave Rapunzel'
Rapunzel was emaciated when paramedics discovered her on Saturday on the side of the highway. She has since undergone multiple surgeries for broken bones and internal bleeding — injuries that suggest she was hit by a car.
Philipp Schmierer, head of surgery at the Zurich University Animal Hospital, said the Alsatian was an extremely well-behaved patient.
"Rapunzel is such a dear," he said. "She has obediently put up with everything."
Read more: Wes Anderson's 'Isle of Dogs' to open Berlin film festival
The dog is still in intensive care and is expected to remain at the hospital for at least the next 10 days. Portmann of the ambulance service said that although she was not yet stable, "there's a good chance brave Rapunzel will survive and her owners will be able to pick her up soon."
nm/kms (AP, dpa)