The Interior Minister of NRW state, Ralf Jäger, has ordered police to prevent a far-right splinter group "Pro NRW" from displaying inflamatory anti-Islam caricatures at further protests outside several mosques this week during the final phase of the state's regional election.
Jäger intervened late on Sunday, saying the actions of the extremist anti-Islam group in Bonn on Saturday had been a "deliberate provocation" that had triggered reprisals by Salafists. They espouse a strict form of Sunni Islam.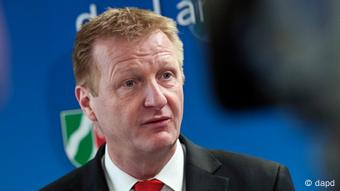 Warnings to protagonists from NRW interior minister Jäger
He also said however that the "systematic provocations" by right-wing extremists did not justify the response. "These were no spontaneous attacks, because the Salafists had mobilized themselves nationwide for their action (in Bonn)," Jäger said.
Salafist now in custody
A Bonn court on Monday remanded a 25-year-old suspected Salafist in custody on attempted murder charges after two police officers - a policeman and policewoman - received thigh wounds.
Police squads had been out in force outside the Saudi Fahd Academy in Bonn's suburb of Mehlem to separate 30 "Pro NRW" far-rightists from more than 400 counter-demonstrators. Stones and bottles flew. Police vehicles used as separation barriers were damaged.
"This was an explosion of violence as we haven't witnessed in a long time," said Bonn's police chief, Ursula Brohl-Sowa.
The man charged over the alleged knifing is from the German state, Hesse.
Courts lift ban in Bielefeld
Jäger said his instructions to force police to prevent caricature displays, applied to events planned by "Pro NRW" on Monday near mosques in Bielefeld, Münster and Hagen, as well as gatherings in Cologne and Düren on Tuesday.
The administrative court in Minden however lifted the ban shortly before a small right-wing demonstration in Bielefeld on Monday. Some 400 people there protested mainly peacefully against the right wing demonstration. Three arrests were made.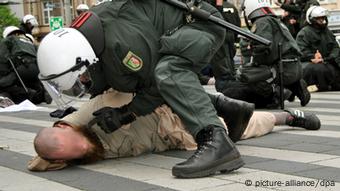 Earlier in May, police were forced to break up a protest in Solingen
Ahead of Saturday's confrontation in Bonn, NRW's upper administrative court based in Münster also rejected a police request to ban displays of caricatures despite a similar violent confrontation on May 1 outside a mosque in another NRW city, Solingen.
Germany's constitution places high value on freedom of assembly and expression. In the case of Bonn, the Münster court had reportedly argued that a caricature ban had not been sufficiently justified.
Flashback to 2005 outrage
When first published in 2005, anti-Islam caricatures drawn by the Danish artist Kurt Westergaard sparked violent protests around the globe while prompting wide debate on potential censorship. Strict Muslims oppose any depiction of their prophet.
Saturday's unrest in Bonn left a total of 29 police injured. Police say they arrested 109 persons, including the knife-armed assailant.
North Rhine-Westphalia, Germany's most populous state with 18 million inhabitants and major industry but severe communal debt, elects its next Dusseldorf-based government on Sunday, May 13.
German domestic intelligence services keep a watch on an estimated 2,500 Salafists. In total some four million Muslims live in Germany. Half of them have German citizenship.
ipj/al (Reuters, AFP, dpa, kna, epd)