Mexico has in 2017 registered its highest murder rate since modern records began, according to official data released on Sunday.
By the end of November, the number of official homicide investigations reached 23,101, surpassing a previous record in 2011 of 22,855.
The data came as a fresh blow to Mexican President Enrique Pena Nieto, who has prioritized a reduction in narcotic-related violence that has worsened severely during a decade-long war on drug cartels started by his predecessor. Some 190,000 people have died from drug related crimes since then.
Government data showed that in November alone, 2,212 murders were recorded — while 2,380 killings were carried out in October, making it the most violent month since records began in 1997.
Drugs gangs changing
Analysts have described how drug cartels have splintered into smaller, more brutal cells as they fight for territory to grow illegal crops. Others have pointed to a failure of the government's anti-crime strategy.
Read more: Crime and economic woes contributing to Mexico's refugee influx
Last week, Mexico's congress approved a controversial internal security law that formalizes the military's role in domestic security, a move many voters fear will lead to even more violence.
Although Pena Nieto managed to reduce the murder tally during the first two years of his term, it has risen steadily since then.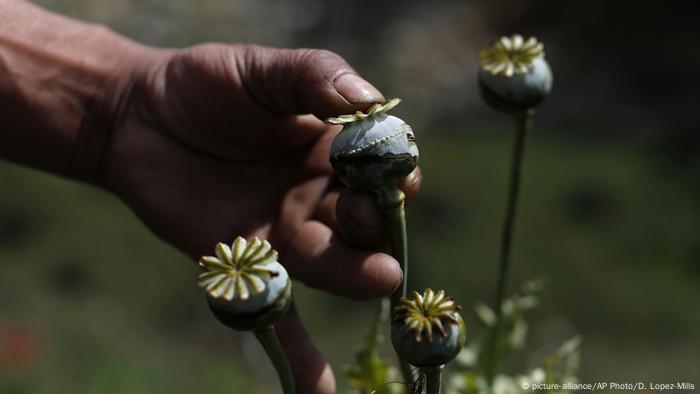 Nearly 70,000 acres of Mexican land are used to grow poppies to produce opium, according to the Washington Post
Pena Nieto's government's failure to contain the killings has damaged his credibility and hurt his centrist Institutional Revolutionary Party (PRI), which faces an uphill struggle to hold onto power in the July 2018 presidential election.
The 51-year-old's popularity is the lowest of any Mexican president in modern history. He is prevented by the constitution from running for a second term and leftist Andres Manuel Lopez Obrador has emerged as the front-runner in the election race.
Cartel amnesty mooted
But Lopez's lead could be eroded after he spoke of offering criminal gangs an amnesty to reduce the violence, a move not popular with Mexican voters.
One opinion poll this month showed that two-thirds of Mexicans reject offering such an amnesty, with less than a quarter in favor.
Read more: Woman who searched for Mexico's "disappeared" is slain
Mexico has faced criticism from the United Nations human rights council, which has decried that more than a decade after the military was deployed to stamp out the country's drugs cartels, violence continues to rise.
UN human rights chief Zeid Ra'ad Al-Hussein warned in a statement this month that as part of the crackdown "many human rights violations and abuses ... continue to be committed by various state and non-state actors."
mm/jm (AFP, Reuters)