Rescue workers were struggling to cope with two natural disasters after the earthquake off the southern coast was followed by Hurricane Katia hitting the coast north of Tecolutla in Veracruz state overnight into Saturday. The US National Hurricane Center reported Katia's maximum sustained winds had dropped to 75 mph (120 kph) when it made landfall and then weakened as it moved over land, becoming a tropical depression before dawn.
The center said that Katia was stalling over Mexico's Sierra Madre mountains, where it could bring 10 to 15 inches (25 to 37 centimeters) of rain to a region with a history of deadly mudslides and flooding.
After the earthquake on the other coastline, Mexico's President Enrique Pena Nieto said 45 people were killed in Oaxaca, 12 in Chiapas and four in Tabasco. The death toll is likely to rise from the 8.2 magnitude earthquake, which struck off Mexico's southern Pacific coast late on Thursday, officials said.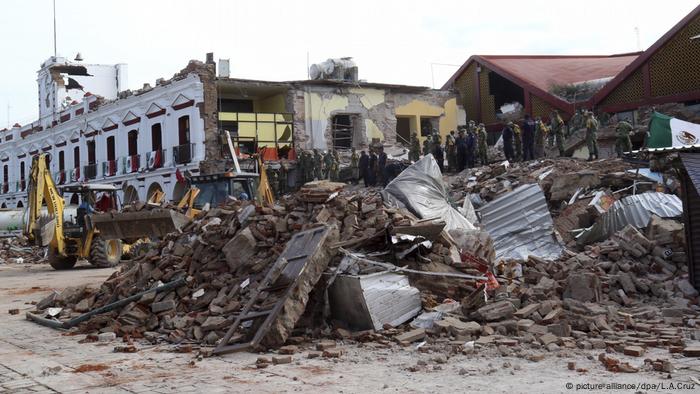 The earthquake has been described as one of the strongest felt by Mexico in nearly a century
Read more: Mother Nature's wrath and mega-hurricanes
Pena Nieto on Friday visited Juchitan in Oaxaca, one of the worst hit cities, where at least 36 people were killed.
"The priority in Juchitan is to restore water and food supplies and provide medical attention to those affected," Pena Nieto tweeted after visiting the devastated town. Authorities have handed out ration packs, blankets and other supplies to people left homeless in the town of 100,000 people.
Southern border offshore
The quake's epicenter was about 123 km (76 miles) south of the town of Pijijiapan in Chiapas, but the shock was felt over 900 kilometers north of the epicenter, in the capital, Mexico City, knocking out electricity and sending residents fleeing swaying buildings.
The Interior Department reported that 428 homes had been completely destroyed and a further 1,700 homes were damaged in Chiapas alone.
The quake was also felt in much of Guatemala, which borders Chiapas, Mexico's southernmost state.
The temblor occurred in a very seismically active region near the point of collision between three tectonic plates: the Cocos, the Caribbean and the North American. At least six other magnitude 7.0 or greater earthquakes have hit the area since 1900 - three of them within a nine-month period from 1902-1903.
Read more: Natural disasters drive millions into poverty: report
Civil Defense officials wrote on Twitter that their personnel were patrolling the streets in Chiapas, aiding residents and looking for damage.
Chiapas Governor Manuel Velasco told broadcaster Televisa some homes had been damaged and a shopping center had collapsed in the town of San Cristobal.
"Homes, schools and hospitals have been affected," Velasco said.
In Tabasco state, next to Chiapas, Governor Arturo Nunez said two of the dead were small children who were residents of his state. One child was crushed by a falling wall while the other was an infant who perished when his ventilator stopped functioning after a power outage in a hospital.
cw/jm (AP, AFP, Reuters, dpa)