More than five months after escaping from prison by sneaking through a hole in the prison's shower and crawling to freedom through a 1.5-kilometer (one-mile) tunnel, Joaquin "El Chapo" ("Shorty") Guzman has been caught.
Nieto took to Twitter to share the news. "Mission accomplished: we have him. I want to inform the Mexican people that Joaquin Guzman Loera has been detained."
"My appreciation goes out to the Security Cabinet for this important victory in favor of the rule of law," he added.
The government has declined to give any more information regarding the arrest.
A most wanted man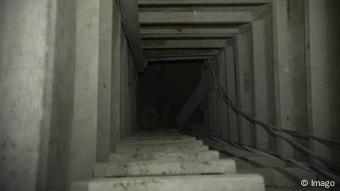 The escape tunnel was equipped with artificial lights and ventilation
Months after the drug lord's escape, released security footage showed that prison guards waited nearly 40 minutes after his disappearance before they checked the inside of his cell. The ensuing cat-and-mouse game between Guzman and the Mexican authorities caused major embarrassment for Pena Nieto.
Guzman was also wanted by the US, and his jailbreak occurred just days after the US issued an extradition request for him on charges of murder and drug-related offenses. Officials in Washington later offered a $5 million (4.6 million-euro) reward for his capture.
Mexican marines had reportedly conducted extensive searches for Guzman in the northwestern states of Sinaloa and Durango. Last month, several of the kingpin's accomplices were arrested by authorities.