Mexican officials say the "principal planner" and five other suspects behind this summer's jail break by the world's most-wanted drug dealer have been captured, Attorney General Arely Gomez said Wednesday.
"Today we are able to affirm that the group responsible for planning, organizing and carrying out the escape from outside the prison has been broken up," Gomez said.
Guzman, the head of the Sinaloa drug cartel, escaped from a maximum security Mexican prison in July through a mile-long (1.5-kilometer) tunnel leading from the shower in his cell.
She confirmed that after the escape, the drug cartel chief traveled overland to the city of Queretaro where officials say he caught a small plane to a mountainous region of Sinaloa, his home state and stronghold.
The latest jailbreak made him once again Mexico's most-wanted fugitive and has been a source of embarrassment for the government of President Enrique Pena Nieto.
Gomez told reporters that the jail break's mastermind had repeatedly entered the maximum security prison where Guzman was held by taking advantage of the access afforded to his lawyers.

"He used that cover to become a link between those who built the tunnel as well as making the payments," Gomez said.
Infamous break out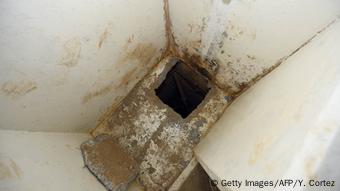 The shower in the Almoloya prison where Joaquin Guzman Loera "El Chapo Guzman" escaped through a tunnel, on July 15, 2015
More than 20 prison employees have also been arrested and some face criminal charges.
It wasn't the first time that Guzman had been sprung. In 2001, he slipped out of another maximum-security facility, purportedly hidden in a laundry cart.
The US had requested Guzman's extradition to face charges in US federal courts, fearing that he might escape. But Mexican officials said he would only be extradited after first serving out his sentences for crimes committed in his own country.
The attorney general did not name the six suspects in custody nor would she answer reporters' questions.
jar/bw (AP, Reuters)