According to a report in The New York Times, Asia Argento is said to have met her then 17-year-old colleague Jimmy Bennett in a California hotel room in 2013. The age of consent in the US state is 18.
After drinking alcohol, the actress, then 37, reportedly performed oral sex on Bennet, slept with him and then asked him to take photos.
The newspaper based its story on anonymous sources and documents of the two parties' legal representatives. The documents included a selfie of the couple in bed, described as authentic by three people familiar with the case.
In 2004, Bennett, then age seven, had played Argento's son in the film The Heart Is Deceitful Above All Things, directed by the actress herself. The two had maintained close contact afterwards, comparing in interviews their connection to a mother-son relationship.
After the 2013 incident, Bennett, an actor and rock musician, had felt abused and exploited and maintained that the encounter had traumatized him and hurt his career, the documents say.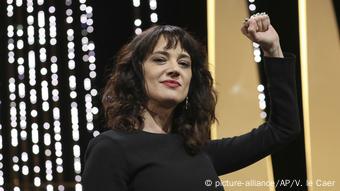 Argento in Cannes in 2018
$380,000 in damages
In the autumn of 2017, Bennett's lawyer threatened to file suit, seeking $3.5 million in damages for "intentional infliction of emotional distress, lost wages, assault and battery."
A month earlier, Argento had accused Harvey Weinstein of sexual abuse in The New Yorker magazine.
The Italian actress became a leading figure in the #MeToo movement. According to the documentation, Bennett found it impossible to endure seeing Argento portray herself as a victim of abuse.
In early 2018, the two sides agreed on a payment of $380,000 (roughly €330,000). As reported in the New York Times, the agreement did not include hush money, as neither party had desired to talk about the affair.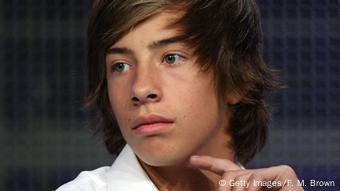 Actor Jimmy Bennett
At the Cannes Film Festival in May, Argento gave a speech describing the festival as Weinstein's hunting grounds and claimed that the onetime Hollywood mogul had raped her there in 1997 when she was 21. "Things have changed. We are not going to allow you to get away with it," she said.
Weinstein is said to have received women in his hotel room and compelled them to have sex with him — a nearly identical situation to that which purportedly transpired between Argento and Bennett.
Weinstein has meanwhile been indicted of several accounts of sex abuse and rape. Disputing them, the film producer claims that sexual relations had always been consensual.
After paying a seven-digit sum for bail, Weinstein was released from detention but is required to wear a monitoring unit.
tla/rf (AP, AFP)