German Chancellor Angela Merkel's Christian Democrats (CDU) took a beating at Sunday's state elections in Hamburg, obtaining just 21.9 percent of the vote - the party's worst election results since World War II and a disappointment for Merkel as her party contests the first of seven crucial state elections this year.
The opposition Social Democrats (SPD) won 48.3 percent of the vote, an increase from 34.1 percent in 2008. The SPD won 62 seats in the Hamburg state assembly, eking out an absolute majority.
This result will enable the SPD's Olaf Scholz to take over as city mayor from CDU incumbent Christoph Ahlhaus. Scholz, 52, is a former German labor minister.
"This is a painful day for the CDU in Hamburg," outgoing mayor Ahlhaus said. "This moment leaves us stunned."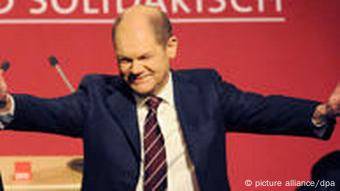 The SPD's Olaf Scholz will be the city's new mayor
"This is a historic result, not just for us, but also for others," a triumphant SPD leader Sigmar Gabriel said in Berlin. "It shows what the Social Democrats are capable of."
The Greens - who sparked the early election by walking out of a coalition with the CDU in November - won 11.2 percent.
The pro-business Free Democrats, the junior partner in the national coalition with the CDU, took 6.6 percent, allowing them to re-enter the state parliament, after they failed to pass the 5-percent hurdle in the 2008 elections.
Significance for Berlin
For Merkel, the result means the loss of three seats in the Bundesrat upper house of parliament, making it harder for her government to push through federal legislation.
In the last election in the northern city-state in 2008, the CDU's share of the vote was 42.6 percent, more than double Sunday's score. The drop of 22.1 percentage points was the steepest decline ever between two elections for the CDU.
The result in Hamburg, where Merkel was born, will also send a signal to voters before the other state votes, especially in the southwestern region of Baden-Württemberg where her CDU is also in danger of losing power in March.
Author: Joanna Impey, David Levitz (AFP, dpa, Reuters)
Editor: Kyle James