German Chancellor Angela Merkel gleaned almost 96 percent support on Saturday from Christian Democratic Union (CDU) members in her local constituency, where she has been elected to the German Bundestag since 1990.
The result - 165 votes out of 173 cast - was 4.1 percent down on the 100-percent endorsement given to Merkel four years ago, when she went on to win 56.2 percent in the district's direct ballot.
On Saturday, she thanked her branch for its "overwhelming trust."
Saturday's CDU nomination took place in Grimmen, a town in Merkel's home electorate that spans the Baltic Sea island of Rügen and the Hanseatic port cities of Stralsund and Greifswald, which lie within Germany's northeastern state of Mecklenburg-Western Pomerania.
Orientation in unsettled times
CDU regional leader Lorenz Caffier said Merkel's down-to-earth style gave people orientation in unsettled times.
"We stand behind her," said Greifswald CDU spokesman Sascha Ott, who pledged that his branch would win back disaffected party members and voters.
Last September, the anti-foreigner Alternative for Germany (AfD) party came second with 20.8 percent in Mecklenburg-Western Pomerania's regional assembly in Schwerin.
Merkel's regional CDU was relegated into third place but used its 16 seats to keep a foothold in the regional government in a renewed coalition with incumbent Premier Erwin Sellering and his center-left Social Democrats (SPD).
Direct AfD challenge
Last Sunday in Stralsund, the AfD set up a direct electorate challenge for Merkel by picking as its direct candidate Leif-Erik Holm, the AfD's state assembly parliamentary group leader, who vowed to "shove Merkel off the throne."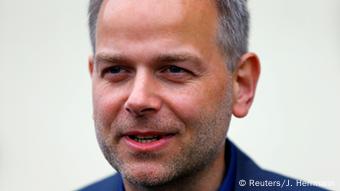 Holm wants to topple Merkel in her home electorate.
Rostock-based political scientist Martin Koschkar said he doubted the AfD would beat Merkel directly and described the AfD move as a bid to mobilize voters.
Three other parties - the SPD, the Left, and the pro-business liberal Free Democrats (FDP) - have also positioned direct candidates.
Germany's voting system comprising a mix of direct and party list candidates is likely to see the CDU again put Merkel at the top of its nationwide line-up, meaning that even if she does not win her constituency, she would still enter the Bundestag.
Her announcement in November that she would run for a fourth chancellery term was answered last Tuesday by the Social Democrat leadership's naming of former European Parliament President Martin Schulz as their Chancellery pick.
SPD backing for Schulz
He is to be formally nominated as the SPD's top candidate and future party chairman on Sunday at a conference of the SPD executive in Berlin.
On Saturday, German Justice Minister Heiko Maas (SPD) said Schulz, as a European parliamentarian, had demonstrated a clear stance against far-right populists.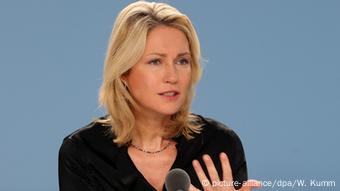 Schwesig said Schulz can enthuse people about Europe
SPD General Secretary Katarina Barley told the Düsseldorf newspaper "Rheinische Post" she expected Schulz to "heat up" campaigning for the regional election on May 14 in North Rhine-Westphalia, Germany's most populous state.
That ballot for that state, currently governed by an SPD-Greens coalition headed by SPD Premier Hannelore Kraft, is widely seen as a prologue to Germany's federal parliamentary election on September 24.
In a parallel move last Saturday, federal Family Minister Manuela Schwesig (SPD) was picked as her party's direct candidate for Electorate 12, which includes Schwerin.
Schwesig told public Deutschlandfunk radio this Saturday that Schulz - unlike Merkel -had the rhetorical ability to explain "why we need Europe" and to enthuse people.
ipj/sms (dpa, AFP, KNA)