The cabinet in Berlin on Wednesday cleared a draft law designed to keep rental prices affordable across Germany, while also protecting tenants from some of the costs of moving house.
Social Democrat (SPD) Justice Minister Heiko Maas, whose portfolio also covers consumer affairs, put forward a package that would limit rent prices when a property's owner puts the house or apartment back on the market. In the future, in cities where demand and prices are high, new rent prices will be capped at 10 percent more than the average for the city or area.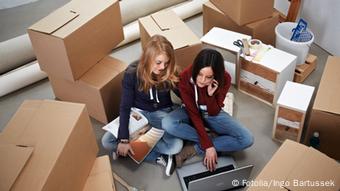 German low-earners and students can struggle to find affordable homes
"The rent price brake will contribute to making rent prices affordable for average earners as well," Maas said. "Hiking rent prices by more than 30 or 40 percent in some congested urban areas is simply unacceptable."
Designating which precise cities or districts should be subject to the rental price brake would be the responsibility of regional governments.
New constructions, renovations exempt
Property owners often use a change of tenant, especially if the previous renters had occupied the apartment or house for a long time, as an opportunity to bring their rental prices back towards market norms. Some even adjust to a higher-than-average level, anticipating another lengthy tenancy. Most standard rental contracts in Germany freeze the price for the duration of the tenancy.
In a bid not to discourage house building and development, new constructions and thoroughly-renovated properties would be exempt from the cost cap. The draft law has a strong chance of passing through parliament, considering the grand coalition's monster majority and the fact that left-leaning opposition parties' main criticism is that the bill does not go far enough.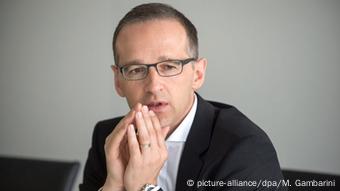 The opposition accused Maas of letting his bill be watered down
"The multitude of exceptions means that the rent-price brake is more of a rent-price accelerator," the Left party's deputy parliamentary group leader Caren Lay told the DPA news agency, saying the unfettered rates on new properties would continue dragging average prices up. "The real estate lobby has really done its work; the SPD has made many key concessions."
The center-left SPD, Merkel's junior coalition partners, were particularly keen on the property market reform, advocating stronger measures than the conservatives on several points.
Whoever orders the agent pays the commission
German real estate agents have already threatened to challenge another key part of the reform, claiming that it goes against the German constitution.
The disputed change would apply what's commonly called "the commissioner's principle" in Germany to real estate agents: namely, that the person who commissions a real estate agent then pays the agency's fees. People looking for a flat in Germany tend to dread the innocently-labeled "Provision" payment tied to many properties - a commission typically totaling between two and three months' rent, often with value added tax on top.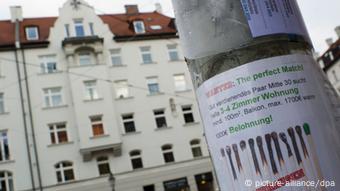 In Munich, Germany's toughest rental market, tenants go to great lengths to avoid agents' commissions
Justice Minister Maas said his draft bill was aiming to ensure "that the tenants' predicament is no longer exploited on the accommodation market, and that the general principle of 'whoever commissioned it should pay for it' will apply."
Germany's umbrella real estate organization IVD objects to this rule, saying that in certain situations - especially when a prospective tenant approaches a realty agent - the law could limit consumers' options.
"For example, if a renter was looking to move from Hamburg to Munich, the Munich real estate agent would not be able to offer him any of the flats already in his 'portfolio', even if the tenant was willing to pay for this service," IVD President Jens-Ulrich Kiessling said.
The German tenants' association praised the draft legislation in principle, calling it an "important step" but calling for "improvements during the process of passing it into law."
Although the German real estate market is best known internationally for the worsening but still-bohemian situation in Berlin, where space remains ample and prices uncharacteristically low for a European capital city, other cities like Munich, Stuttgart, Cologne, Hamburg, Bonn and many university towns face higher prices and lower levels of availability. In a recent market research study on the most expensive German towns and cities for rental rates, Berlin did not even make the top 30.
msh/es (AFP, dpa, epd, Reuters)