The German government has embarked on a charm offensive, seeking to defend its decision to extend the lifespan of the country's nuclear power plants by an average of 12 years.
"I think it's fair to say that our energy supply scheme will become the world's most efficient and environmentally friendly," Chancellor Angela Merkel said in Berlin, referring to her center-right coalition's overall plan to support the introduction of renewable energies by using more old-fashioned, established sources of power in the meantime.
"The agreement will maintain affordable energy prices both for private consumers and businesses. Our aim is to further promote renewables, and we see nuclear and coal-fired power plants as an indispensible bridge towards this goal."
By 2050, Merkel said, 80 percent of Germany's electricity should be harvested from renewable sources.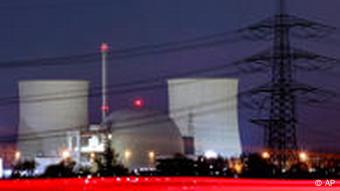 Germany's nuclear plants were set to shut down by 2021
"This is a revolution in the energy production sector, no more, no less," she said.
For now, though, the country's pre-1980 nuclear power stations will remain online for a further eight years, with the more modern post-1980 ones running for an extra 14 years.
Political fallout
Germany's Social Democratic (SPD) and Green opposition parties, who introduced plans to phase out all nuclear power by 2021 when in office at the turn of the century, have pledged to reverse the decision if they win power.
"I can promise the government a fiery autumn," Claudia Roth, co-leader of the Green party, said in response to the decision.
Nuclear energy has always been a particularly contentious issue among the German electorate, with polls showing that a majority of people oppose the power source.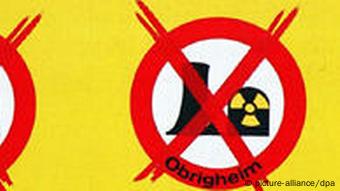 Atomic energy is unpopular among the German public
In an editorial on Monday, the major daily paper Die Welt said Merkel "has created an election issue, which the SPD and Greens will fully exploit in 2011," referring to six upcoming state ballots.
Nuclear power currently produces almost one-quarter of Germany's electricity. Renewable energy sources make up about 15 percent of the power supply, with the remainder coming from traditional fossil fuels like coal.
Atomic energy has regained some of its popularity in many European countries in recent years, due to volatile oil prices and a general desire to reduce the carbon emissions generated by burning fossil fuels, broadly considered the chief contributor to climate change.
Countries like Italy, Sweden and Finland have all recently introduced similar policies to either extend or expand nuclear power production, while France has a notoriously heavy dependence on atomic energy.
Bridging the gap
Merkel's government says that the 17 remaining nuclear plants in Germany will have to contribute some of their future profits towards the development of the renewable energy sector.
The first contributions are set to be generated by a new, six-year tax on the use of nuclear fuel rods, which the government expects to generate 2.3 billion ($3 billion) euros per year.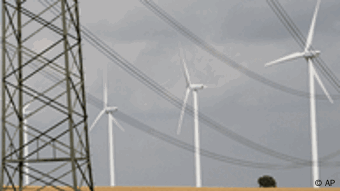 Under the program, nuclear power companies are meant to help fund renewable energies
According to Germany's DPA news agency, Merkel held a telephone conference late on Sunday with the bosses of nuclear power concerns Eon, RWE, EnBW and Vattenfall, who promised to also voluntarily contribute some of their profits to ecological endeavors.
"Of course, we won't levy taxes so high that our nuclear plant operators would throw in the towel," said Environment Minister Norbert Roettgen, who initially opposed the extension. "We want these additional revenues, and so it would make little sense to help eliminate the financial source itself."
However, some energy experts in Germany are not convinced that the new levies on the companies will make any meaningful dent in the profits of nuclear energy providers.
"Apart from the unresolved security issues, the deal will mainly mean more profits for the utility companies involved," Felix Matthes from the Freiburg-based Ecology Research Institute told Deutsche Welle.
"According to our own calculations, these firms will be able to pocket an additional 95 billion euros in profits, with only 15 billion euros expected to go towards climate protection. So you can hardly talk about a push for renewable energy sources."
Merkel said it was as yet impossible to say when Germany would abandon nuclear energy for good, but pledged only to use the technology for as long as it was necessary.
"I know that people are very skeptical and critical of nuclear power," she said. "We take these concerns very seriously."
Author: Mark Hallam (AFP/apn/dpa)
Editor: Nancy Isenson