The state of Mecklenburg-Western Pomerania lies on the Baltic Sea and is home to about 1.6 million people. At 23,000 square kilometers (9,000 square miles), it is slightly larger than the state of Hesse, where the international finance hub Frankfurt am Main lies and which has a population of 6 million people. In 2015, Mecklenburg-Western Pomerania's per capita economic output was 25,000 euros, compared with the national average of 37,000 euros, nad the average annual per capital income was 17,700 euros.
Mecklenburg-Western Pomerania is a state of villages where hardly any young people live, because of the lack of employment opportunities. Such areas have no bakeries, hairdressers or even doctors. Facades crumble. This phenomenon is not unique in Germany, but it is conspicuous in Mecklenburg-Western Pomerania, where there is a wealth of forests, meadows and water. And, of course, every summer the beaches of the Baltic coast attract large numbers of tourists.
The state carries little national political weight. It contributes a mere 13 of the Bundestag's 631 seats. However, one of its parliamentarians is Angela Merkel, who won her direct mandate there. Her constituency office is in the Baltic Sea town of Stralsund. The chancellor obviously has little time to drop by, but that changes during campaigns, when Merkel travels to small towns and tries to get in touch with the electorate. In the current campaign, her main goal has been to placate the people and reiterate her belief that accepting the refugees was right and that they did not bring terrorism to Germany.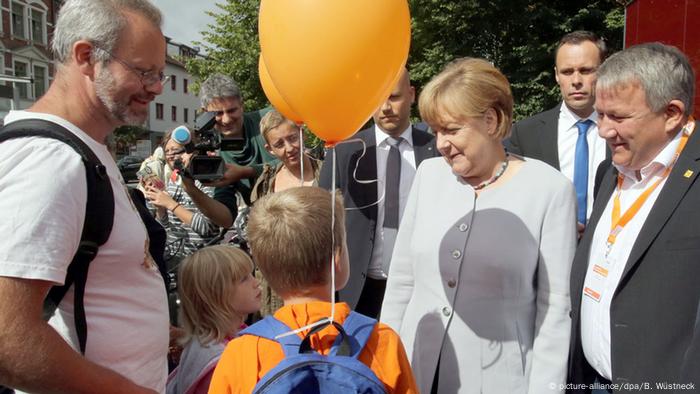 Merkel returned to the site of her seat to drum up votes for the CDU in parliament
Predictions for Sunday
Since 2011, Mecklenburg-Western Pomerania has been ruled by a coalition government consisting of Christian Democrats (CDU) and Social Democrats (SPD), led by SPD State Premier Erwin Sellering. The opposition is made up of the Greens, Left party and extreme-right National Democratic Party (NPD). Following German reunification, a home for refugees in Rostock, the state's largest city. Images of the burning building were seen around the world.
On Sunday, the NPD is fighting to maintain the 5 percent needed to stay in parliament. However, it is expected that the right-wing Alternative for Germany (AfD) will take the party's place. Polls predict a result of 20 percent for the AfD, meaning it would be the second strongest party, behind Merkel's CDU. In any case, the AfD will definitely change the balance of power.
If the forecasts for Sunday's results prove right, it is likely that one of two coalitions will be formed: either the SPD and CDU again or a three-party bloc of the SPD, Left and Greens. The latter could prove the model for a future federal government coalition.
Voters in Mecklenburg-Western Pomerania are focused on local improvements and have no interest in such international issues as NATO membership. Many will vote for AfD to protest Merkel's refugee policies. It's a rather unstrategic approach; conditions will not likely improve with the AfD in power. But it is certain that many wounds will be licked in Berlin on Monday: Recent polls show that all national parties represented in Mecklenburg-Western Pomerania's parliament face substantial losses.