Despite the introduction of tighter laws regulating vaccinations, not enough children are being immunized against measles in Germany.
According to immunization quotas presented by the Robert Koch Institute (RKI), a federal government agency and research institute responsible for disease control and prevention, all German states achieved a 95-percent vaccination rate for the first measles vaccination. But vaccination rates averaged 92.9 percent for the decisive second measles vaccination and were not satisfactory, the institute said.
Read more: Rates of notifiable diseases jump 50 percent in Berlin
"It is irresponsible not to have children vaccinated against measles or to allow gaps in a child's immunization record," RKI said in a statement. "We need a nationwide vaccination rate of 95 percent for the second vaccination in order to eradicate this infectious disease. Doctors, schools, day care centers, businesses, authorities and, of course, parents need to work together better. No one should die of measles today."
RKI registered 929 measles cases in 2017, which is almost three times more than the 325 cases in 2016. In the first 12 weeks of 2018, 92 cases were reported.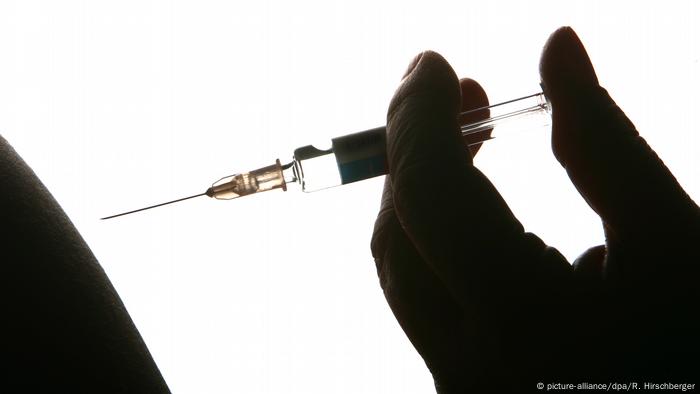 Germans are taking a more positive view of vaccinations, according to a national study
"Measles infection is by no means harmless. About a quarter of the reported cases must be treated in hospital. We see an average of three to seven deaths a year due to measles or the measles-related disease SSPE," said Lothar H. Wieler, president of the Robert Koch Institute.
Read more: Flu season wreaks havoc on German workforce
Tighter laws
Since mid-2015, there have been tougher laws in place to improve immunization quotas:
All routine health checks for children and adults can be used to check a person's vaccination status.
Unvaccinated children and young people can be temporarily excluded from attending a day care center or school in order to prevent an outbreak of the disease.
Parents must provide proof they have received compulsory medical vaccination advice before their child can accept a place at a day care center.
Day care centers must report families who refuse vaccination counseling to health authorities.
'Improved attitude'
However, despite concerns about measles, according to the RKI, vaccination rates for chicken pox and meningococcus have slightly increased.
The attitude towards vaccination has noticeably improved, according to statistics from the Federal Center for Health Education (BZgA). Five percent of the 16- to 85-year-olds surveyed had rather negative or worse view of vaccinations.
"We are basically on the right track, but consistent and targeted information is still necessary because people who are vaccinated protect not only themselves but also the community," said Heidrun Thaiss, the BZgA head.
Each evening at 1830 UTC, DW's editors send out a selection of the day's hard news and quality feature journalism. You can sign up to receive it directly here.