Around 130,000 hectares (more than 321,000 acres) of forest and grasslands have been destroyed in Chile as at least 46 active wildfires continued to burn on Monday.
Central and southern parts of the country, including the port city of Valparaiso and the capital, Santiago, as well as the regions of O'Higgins, El Maule, Biobio, La Araucania and Los Lagos had been struck by the fires, according to the country's National Forest Corporation (CONAF).
"We are encountering the greatest forest disaster of our history, but we will overcome this emergency," Chilean President Michelle Bachelet wrote on Twitter.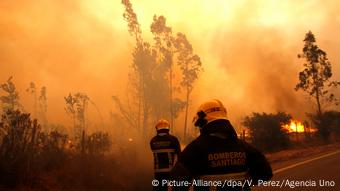 Mexico, Argentina and the US have all sent help
She has canceled a planned trip to the Dominican Republic for a Latin America summit, as well as an onward journey to Haiti, to deal with the emergency.
Emergency services have battled the flames for days, bringing hundreds of fires under control.
Three firefighters have died in the flames and another three have been wounded, with soldiers and dozens of aircraft helping to battle the fires.
"We tried to defend our home, but the flames were too big and we had to run out," fruit packer Tarcila Becerra told The Associated Press, standing next to a charred remains of her house.
The ferocity of the fast-spreading blazes prompted Bachelet to ask Brazil, Canada, Mexico, Peru and Spain for help.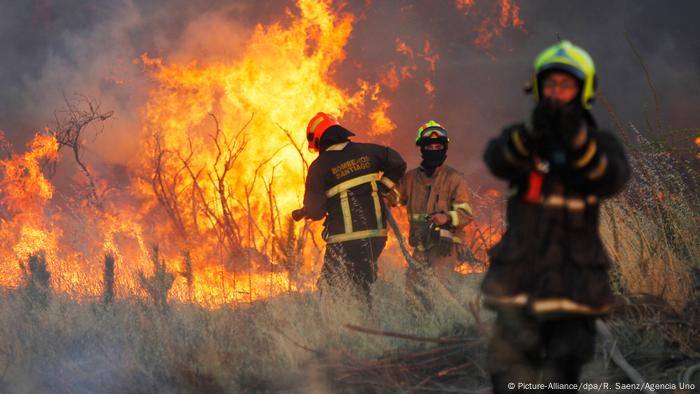 Fires are common in the Chilean summer, but this year has been particularly bad
'State of catastrophe'
Authorities have called a "state of catastrophe" in the central regions of O'Higgins and El Maule, where the fires were considered the worst in the past 50 years.
Fires often burn in Chile's dry forests during the summer, but this year has been considered worse because of a prolonged drought which has been attributed to climate change.
"What is obvious is that Chile is facing nature that is stressed, and that is why each time there are conditions for forest fires, and they are growing in a dangerous fashion," Matias Asun, the country director of the environmental group Greenpeace, told the Agence France-Presse.
CONAF has reported 2,808 fires since July, and with forecasts of high temperatures, strong winds and low humidity, more blazes are expected.
Interior Minister Mario Fernandez told parliament that arson could not be ruled out as the cause of the fires.
aw/cmk (dpa, AFP, AP)