Dozens of fire brigades from Valparaiso and its neighboring municipalities have been deployed to fight a violent wildfire that is devastating the historic port town on the western coast of Chile.
Around 400 people have been evacuated and 19 have been hurt, mostly from smoke inhalation, Undersecretary of the Interior Mahmud Aleuy told a news conference on Monday. "It [evacuation] has been successful, and fortunately we don't have any tragedies to grieve," he said.
Around 100 homes in the city of around 270,000 have been destroyed.
Chilean President Michelle Bachelet announced on Twitter that "emergency protocols have been activated" and expressed "solidarity with the people affected."
The fire broke out along Valparaiso's green hillsides and was fanned by the coastal town's strong gusting winds and hot summer weather. According to the National Emergencies Office, the blaze has destroyed around 50 hectares (123 acres) of woodland.
The government said investigators have been sent to the area to examine the cause of the blaze.
Electricity providers said they had cut power to about 47,000 households in the region, though it has mostly been restored since.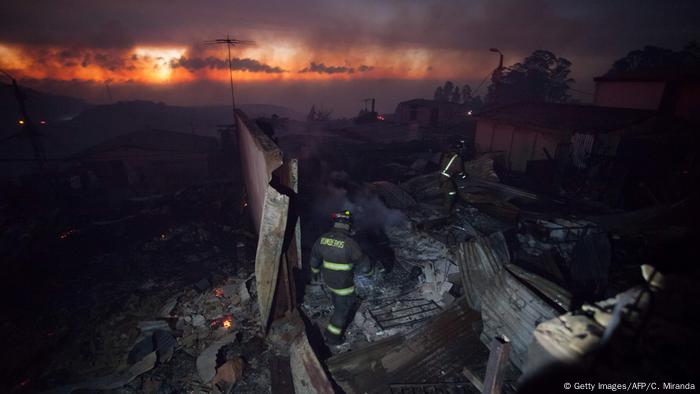 Firefighters have been deployed from across the region to battle the flames, which threaten to reach the city's port
Scenic port city devoured by fires
Valparaiso, located some 120 kilometers (75 miles) northwest of the capital Santiago, is the center of Chile's second-largest metropolitan area and home to around 285,000 people.
Its wooden structures, built on steep, tinder-dry hillsides, are highly susceptible to fire, particularly in the poorer neighborhoods higher up in the hills. In 2014, a significantly greater fire killed 13 people and burnt down around 2,000 homes. The town has also been affected by many smaller fires since.
The scenic colonial city has been dubbed the "jewel of the Pacific," and is a UNESCO World Heritage Site. Every year, Valparaiso attracts thousands of tourists who come to stroll its narrow cobbled streets, ride its cable car along the steep hills and view the colorfully painted houses.
The city used to be a favored stopover point for ships sailing down toward South America's southern tip and on to the Atlantic. However, ship traffic though the city plummeted following the opening of the Panama Canal in 1914, forcing its economy to rely mainly on tourism.
dm/cmk (AFP, Reuters)