Canadian author Margaret Atwood, on Wednesday, announced that she will write a sequel to her critically-acclaimed dystopian novel "The Handmaid's Tale," to be titled "The Testaments." In a statement released on her publisher's website, Atwood wrote: "Dear Readers: Everything you've ever asked me about Gilead and its inner workings is the inspiration for this book. Well, almost everything!"
In what appeared to be a nod to political developments in the US, Atwood concluded: "The other inspiration is the world we've been living in."
Dystopian patriarchy
"A Handmaid's Tale" is set in a fundamentalist religious patriarchy that has overthrown the government of the United States. Known as the Republic of Gilead, it is located in New England at an unspecified time in the future. The story is told in the first-person voice of one of the women subjugated within the patriarchy. It has strong references to the Old Testament and revolves around the issue of power as relates to politics, society, gender, religion and class.
Atwood herself has said that the novel was intended to show readers that repressive, totalitarian religious movements can very well take hold in democracies like the USA, just as they have in other parts of the world.
She says her study of puritan America while a student at Harvard inspired her to write the novel, adding that in her mind the most plausible guise for the usurpation of power in the US would logically come from a conservative religious movement. She says that hypothesis is based on the fact that America has been steeped in Old Testament religious tradition from its very beginnings — citing the patriarchal structures and harsh intolerance of the Pilgrims.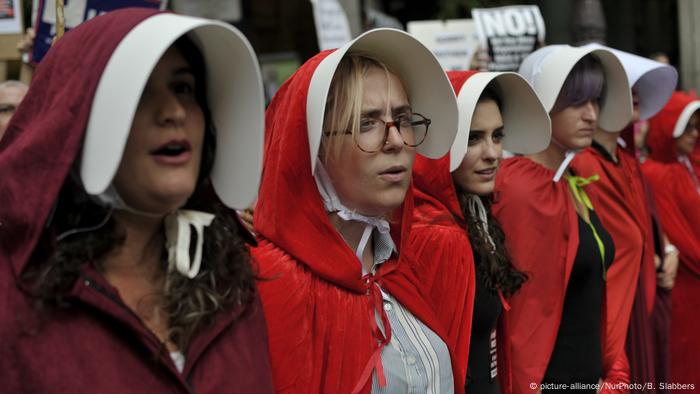 Protesters in Handmaid's Tale attire have become a common sight around the world, such as here in Philadelphia outside a fundraiser attended by US President Donald Trump
Popular and timely
Atwood's original novel has enjoyed a phenomenal renaissance, spinning-off a film and a popular television series. It has also inspired women protesting the patriarchal structures they see in contemporary society. Women dressed in the garb of the novel's repressed female characters have become a common sight at political rallies and protests in the age of Donald Trump and the MeToo movement.
"The Testaments" will pick up 15 years after the original left off and be set in the dystopian society of Gilead. The novel will be published by Nan A. Talese/Doubleday and will be on bookshelves on September 10, 2019.
Each evening at 1830 UTC, DW's editors send out a selection of the day's hard news and quality feature journalism. You can sign up to receive it directly here.