Paris prosecutor Francis Molins said "the Daesh flag (an Arabic acronym for the group calling itself Islamic State) and a clear written claim in Arabic" were found on the man, who appeared at a police station in the north of the French capital on Thursday morning.
The unidentified man, who was armed with a meat cleaver and a fake bomb vest, was shot dead by police after threatening officers.
Paris resident Alexis Mukenge told the news channel iTele that police told the man, "Stop. Move back," before firing twice. The man immediately dropped to the ground.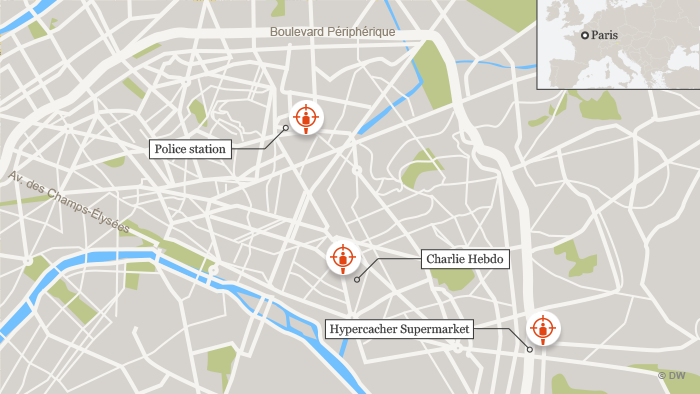 Paris' Montmartre disctrict is home to the Sacre Coeur Cathedral
A source close to the investigation told news agency Agence France-Presse that the man was wearing a pouch under his coat with a wire hanging from it, but it "contained no explosives."
Explosives experts were sent to the scene, close to the Montmartre tourist hotspot, which was cleared during the incident. The man's body was checked by an explosives robot before they approached and gave the all clear.
Timed to scare?
An interior ministry statement said the man cried out 'Allahu akbar" when he threatened police at 11:30 a.m local time (10:30 UTC), a year almost to the minute after two Islamist extremists burst in the offices of the Charlie Hebdo satirical magazine, gunning down 12 people.
The dramatic incident further frayed nerves across France, coming less than two months after multiple Islamist attacks on Paris - claimed by IS - left 130 people dead.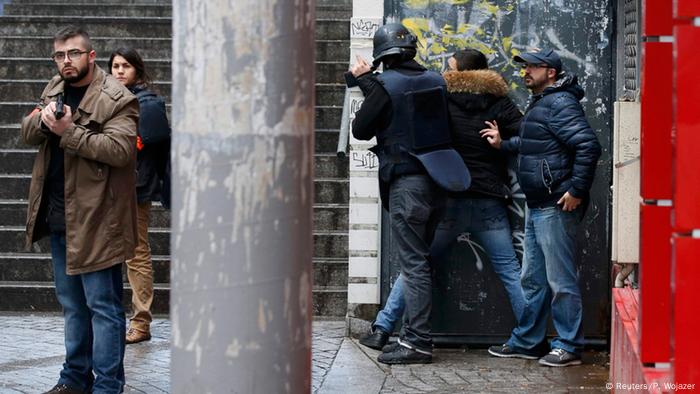 Security has been tightened in Paris on the one-year anniversary of the Charlie Hebdo attacks
Neighborhood resident Nora Borrias said "it's like the Charlie Hebdo affair isn't over," as she waited by police barricade, unable to return home.
Two metro lines and several bus services were disrupted; two schools were placed in lockdown and stores in neighborhood streets were told to close temporarily.
Prosecutor Molins said that given the circumstance, Thursday's events would be investigated as a possible terrorist attack.
Interior Minister Bernard Cazeneuve praised the "remarkable work" of the security forces. Just a few minutes before the shooting, French President Francois Hollande unveiled new anti-terror measures, which will allow off-duty police officers to carry weapons.
Meanwhile, Charlie Hebdo has published a special edition featuring a gun-toting God, with the headline: "One year on: the killer is still on the run."
Since last January's attacks, the magazine has moved to ultra-secure offices in a secret location.
mm/msh (AFP, AP, dpa, Reuters)