Hans Watzl arrived at the Bodelschwingh School in Münster with his two horses, Solfari and Flüga, on Monday to pick up his grandchildren, ending a month-long trek that spanned around 550 kilometers (350 miles).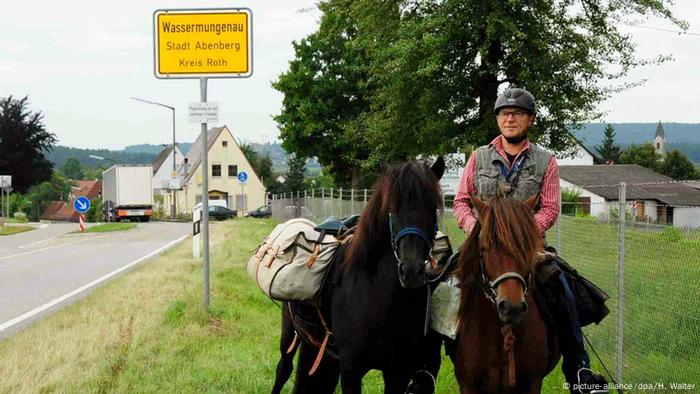 Hans Watzl set off with his two horses Flüga (left) and Solfari (right) on September 5
Watzl is a 62-year-old man who lives in Abenberg, a village close to Nuremberg in the Franconia region of northern Bavaria. The keen trail rider was fulfilling an unusual promise to his grandchildren, 7-year-old Hannes and 5-year-old Esther.
"I thought I would pick them up, put them on [the horse], and off they'd go," Watzl told German news agency dpa, adding that he had thought about doing it before.
Watzl trained his two horses, who alternated duties as pack and riding horses, near traffic before embarking on the unusually long trek, even for him. They rode for four weeks, spending the nights at horse ranches and horseback riding stations along the way, taking breaks every sixth day. Watzl explained he got "soaking wet" while on his journey.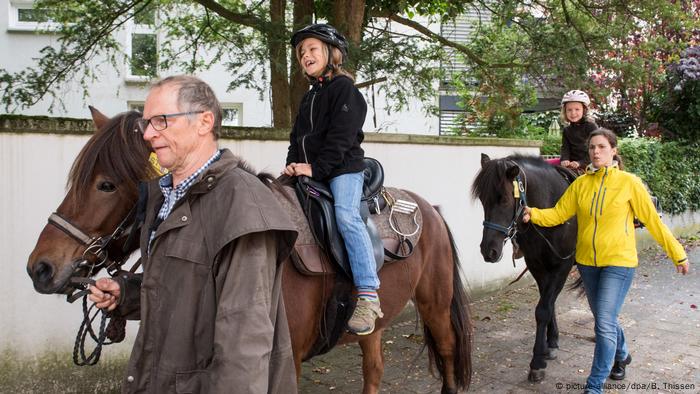 Hans and Hannes with Solfari, mother Karolin Groth and Esther on Flüga
He arrived in Münster on Saturday before picking up his grandchildren from school on Monday. Hannes and Ester were awaiting his arrival with a welcome sign, and the school's principal, Petra Bönisch, gave a little speech as the horses ate apples and carrots.
"Really cool," one of the schoolchildren told dpa. "But also a little crazy."
Watzl had also planned his journey to maximize the time he could spend with Hannes and Esther on arrival. This Tuesday, October 3, is German Unity Day — the bank holiday celebrating German reunification. That means that Hannes and Esther have no school tomorrow, and will therefore have more time to spend with Hans, Solfari and Flüga.
dv/msh (dpa)