William Clyde Allen III, a 39-year-old Utah resident, has been detained in connection with two suspicious envelopes sent to the White House and the Pentagon earlier this week, US authorities have said.
The FBI said it was investigating "potentially hazardous chemicals" in the city of Logan, where the arrest took place, and asked people to avoid the area. At the same time, it said there was no "wider threat to public safety."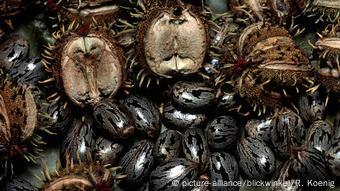 Castor oil plant seeds, or castor beans, can also be dangerous if ingested
On Monday, the Pentagon received two letters that triggered an alert in its mail scanning facility. Initially, defense officials suspected the packages contained ricin, a powerful poison derived from castor beans. The letters were reportedly addressed to Defense Secretary Jim Mattis and Navy chief Admiral John Richardson.
Separately, the Secret Service said it was investigating a similar letter addressed to the US President Donald Trump. The letter was sent to the White House but it never entered the presidential residence.
Castor beans, not ricin
On Wednesday, however, a Pentagon spokeswoman said "preliminary analysis" had indicated the packages had contained castor beans from which ricin is usually extracted, and not the lethal poison itself. The FBI is still investigating.
A law enforcement source told the Reuters news agency that the charges against the Utah suspect would likely be filed on Friday.
Ricin is about 6,000 more powerful than cyanide and can be used as a biological weapon. Earlier this year, German authorities said they had thwarted a major terror attack by arresting a Tunisian national who was allegedly producing the poison in his apartment in Cologne.
dj//cmk (Reuters, AFP, AP, dpa)