Malaysian officials on Thursday sent back over 800 refugees who had landed on their coast.
The refugees were Rohingya Muslims fleeing ethnic conflict in Myanmar, lured by human traffickers who charged them large sums of money to help them cross over to Thailand, Indonesia or Malaysia. They were joined by Bangladeshi migrants trying to escape poverty in their country.
Deputy Home Minister Wan Junaidi said authorities found a boat with about 500 people on Wednesday off the coast of Malaysia's northern Penang state. They were then given some provisions and sent back to the sea. Another boat carrying around 300 migrants was turned back, officials said on condition of anonymity. Earlier this week, Kuala Lumpur had turned back another 1,000 asylum seekers who had landed by boat.
"What do you expect us to do," the deputy home minister asked. "We have been very nice to the people who broke into our border. We have treated them humanely but they cannot be flooding our shores like this," he argued, adding that his country needed to send "the right message that they are not welcome here."
Wan Junaidi admitted that the Rohingya minority had a problem in Myanmar, but said that was the reason why "we need to send a strong message to Myanmar that they need to treat their people with humanity."
Junaidi also took a shot at Bangladesh's migrant issues, saying it had a "serious problem" despite being a democracy.
A humanitarian crisis
"This is a grave humanitarian crisis demanding an immediate response," Matthew Smith, Executive Director of Fortify Rights told the Associated Press. "Lives are on the line. Regional governments should act decisively to rescue and protect asylum seekers and trafficking survivors, not drive them back out to sea."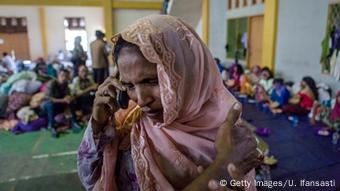 Hundreds of refugees have arrived in Indonesia
Other migrant advocacy groups warned that sending back these boats was like a death sentence to these people, who could die of starvation and disease after spending so much time on the Indian Ocean - recent arrivals had told harrowing stories of throwing bodies of dead passengers overboard. More than 8,000 migrants have been stranded at sea.
Indonesia had also taken in around 600 Rohingya and Bangladeshi refugees on Sunday, but turned away boats thereafter. Thailand this week emphasized that its policy was to "help" people coming by boats, give them water, food and other provisions and send them on their way. Bangkok also launched a major crackdown on people smugglers this month after dozens of bodies of Rohingyas were found in a mass grave in the country's south.
Roughly 1.3 million Rohingyas live in Myanmar's Rakhine state, but the community's members are effectively stateless according to a national law, which does not consider them as ethnically belonging to the region. The group is often targeted by extremist Buddhist mobs and has limited access to education and health care.
More than 120,000 members of the Rohingya minority and Bangladeshi migrants have boarded ships to flee to other countries in the last three years, the UN refugee agency says. Rohingya activist Nay San Lwin has tweeted a map showing the routes taken by the asylum seekers.
Of late however, no government in the region has been willing to take them in. Bangkok has decided to organize an emergency meeting later this month to discuss the Rohingya exodus, its root causes and possible solutions. Representatives of 15 countries, including the US and Australia, are expected to attend.
mg/msh (AP, AFP)