The death penalty can be given for 68 offences in China. But it is difficult to say anything else about statistics there. As Anu Kultalahti from Amnesty International explains, "China still executes more people than the world put together. It's true that the death penalty is shrouded in secrecy in China and the official statistics on the death penalty in China are classified as a state secret."
China claims its number of executions is dropping, now that all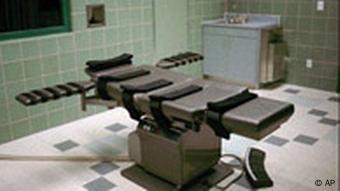 China now also uses the more "humane" form of execution: lethal injection
verdicts must go through the Supreme People's Court, but this cannot be verified.
What is Chinese public opinion?
Many Chinese polls show support for the death penalty at between 80 and 95 percent. But Dietrich Oberwitter at Germany's Max Planck Institute for Foreign and International Criminal Law says his study was the first major, systematic population survey and it came out with different figures.
"The respondents only were in favor of four crimes to be punished by the death penalty. And those were: murder, intentional injury, drug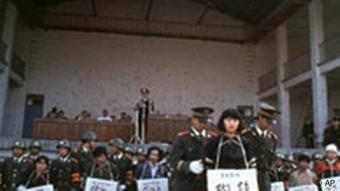 Convicted drug dealers and traffickers are assembled by police at a public sentencing before their execution by gunshot...
dealing and sexual abuse of girls. And a lot of other crimes which are currently under the threat of the death penalty in China did not find the majority of the population who think that is an appropriate punishment. So its not only that they are all harsh, but there are shaded attitudes towards crime and punishment."
Public sentiment same as in the West
The study was conducted randomly in three provinces and included 4,500 anonymous respondents. According to its results, which were released in October, 2009, general support of capital punishment in China is only around 58 percent. "You can say that it is not completely different from any other state in the Western world," says Oberwitter. "So one argument you often hear is that Asian populations are different, that they are more pro-strong punishments and the results on the whole are more or less in line with other surveys we know from Western countries."
Oberwitter says it is highly likely that the justice system in every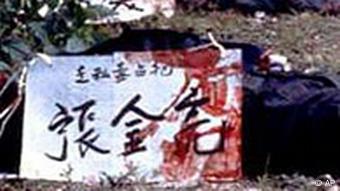 ...those to be executioned in China wear their names on placards around their necks. This picture shows a person who has been executed. In the foreground: the person's placard
country made use of the death penalty at one point, meaning it is one thing most cultural value systems have in common. Hong Lu, author of "China's Death Penalty – History, Law and Contemporary Practices", says support is mainly for reasons of retribution and deterrence.
"Other reasons really include the historical-cultural reasons, partly because the Chinese society has always been a collective society," she adds. "They have always emphasized the collective interests over individual rights. And another reason is probably because of the uncertainty that they are feeling in contemporary society - that they seem to desire a strong law, a more punitive law to try to maintain stability."
Whether or not they support the death penalty, most experts support making figures public because it would entice people to participate in discussions; and that, by all means, is also rooted in historical-cultural values.
Author: Sarah Berning
Editor: Thomas Baerthlein