As Palestinian leader Yasser Arafat lies critically ill in a French hospital and the occupied territories face an uncertain future, a German initiative is blazing a trail for greater cultural dialogue between the two sides.
Entitled "Encouraging Understanding - Writing in a Violent Age," the 3-day conference organized by the Rheinland Pfalz State Office for Political Education aims to promote communication between poets and writers as a means of breaking down inter-community hatred.
A unique opportunity
The first meeting, in 1990, was attended by German and Israeli writers only. After promising steps made in Israeli-Arab relations culminated in the Oslo Peace Process in the mid-1990s, the organizers decided to invite Palestinian participants in 1994. The last meeting took place in Mainz in 2001 amid the intensifying violence of the second Intifada, begun in 2000.
Over the last eleven years, the conference has proven to be an ideal forum for bringing people together who would otherwise never meet. Germans have sat down with Israelis, while Israelis have chatted for what's often the first time ever with their Palestinian contemporaries.
Back in 1994, for example, Israeli writer Ruth Almog was deeply shaken after having her first ever conversation with a Palestinian at a meeting in Germany. Today, she's a staunch supporter of the event.
The power of personal encounters
While the regular conferences in Germany may be highly constructive, participants can easily find they lose touch once back home. Many Palestinian writers are refused permission to travel to Israel, and for their part, many Israelis feel unsafe in the occupied territories. But the meetings are still far from futile.
"People who met here often speak to each other on the telephone," explained organizer Hans-Georg Meyer. "They arrange to meet abroad and they're always pleased to come to Germany and discuss their experiences back home."
"Personal encounters are everything," observed Katharina Hacker, a young writer from Berlin who attended the conference held in Jericho in 2000.
Germany as mediator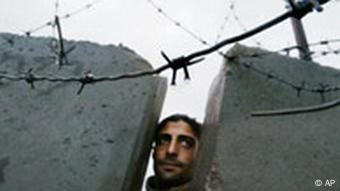 These days, many of the participants are regulars who introduce new faces. They see Germany as neutral soil, where they can meet as equals. Two earlier meetings hosted in Israel and West Jordan were less successful, because members of the party felt the location put them at a disadvantage.
That's often where the Germans can help out. Their role as mediators has, in the past, helped ease the hostilities that inevitably emerge.
"Everyone thinks they have to defend their cultural identity," points out Meyer. But he says that over the years, the mood has become increasingly conciliatory. "The situation has eased up a lot," he said.
The event has also borne fruit in literary terms. One Palestinian participant ended up translating a piece by an Israeli colleague, introducing a piece of work to Palestinian readers it would otherwise never have reached.
Meyer is confident his meetings serve a valuable purpose. "Every time I hear someone say: what the government in my country is doing is wrong, or: Palestinians' human rights are being breached, then I feel the project is a success."