A glass concert hall perched atop an already existing structure, surrounded on three sides by water: The Elbphilharmonie stands on an island in the River Elbe, which become very wide in Hamburg.
The audacious structure is a dream by architects Jacques Herzog and Pierre de Meuron that is pretty much unfiltered from their original vision. The facade is striking, with its wave-form glass ceiling evocative of a ship's sails.
The ascent to the hall takes the visitor up the world's longest curved escalator, the equivalent of eight storeys.
Whether solo instrument or full orchestra, the sound in the grand hall is optimized by an enormous upside-down mushroom-shaped structure suspended from the ceiling.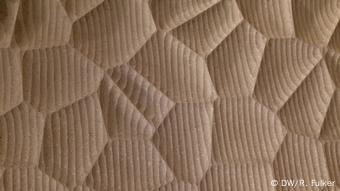 The "white skin" is almost a tactile experience
That sound is further preserved and enhanced by what they call the "white skin" covering the walls consisting of thousands of tiles with computer-generated surfaces, each one different. It's all the work of Japanese acoustical engineer Yasuhisa Toyota and by all accounts a triumph.
In the oval structure, only a minority of the concert-goers actually face the orchestra the usual way, viewing the conductor from behind. The stage is oval as well, nearly circular, in fact, its width actually greater than the depth of the rows of seats directly facing it. The rest of the audience is seated up and up - but no matter where, they're awash in sound.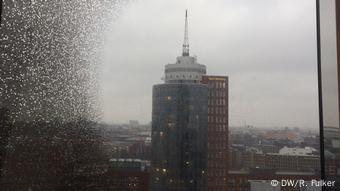 View of the city from inside the structure in typical Hamburg weather
The audience of 2,100 on opening day included invited guests, roughly 1,000 of them randomly selected: 220,000 people from all over the world entered their names into the ticket lottery. Those fortunate enough came to hear a concert showcasing 400 years of Occidental music.
Ludwig van Beethoven
Overture to The Creatures of Prometheus, op. 43 (1801)
Benjamin Britten
Pan, from Six Metamorphoses after Ovid, op. 49 (1951)
Emilio de' Cavalieri/Antonio Archilei
Dalle più alte sfere (From the Highest Spheres) from: La Pellegrina (1589)
Bernd Alois Zimmermann
Photoptosis/Prelude for large orchestra (1968)
Jacob Praetorius
Quam pulchra es (1606)
Rolf Liebermann
Furioso (1947)
Olivier Messiaen
Turangalila Symphony: Finale (1948)
Performed by:
Kalev Kuljus, oboe
Philippe Jaroussky, countertenor
Margret Köll, harp
Iveta Apkalna, organ
Ensemble Praetorius
Ya-ou Xie, piano
Thomas Bloch, Ondes Martenot
NDR Elbphilharmonie Orchestra
Thomas Hengelbrock, conductor
Recorded by North German Radio Hamburg (NDR) in the Elbphilharmonie, Hamburg on January 11, 2017.