New Year's Eve is approaching fast. Just weeks ahead of December 31, the city of Cologne has announced plans for a spectacular multi-media show in the area immediately surrounding the famous Gothic cathedral, close to the main train station.
"We want to make sure people feel safe, and we also want to show what Cologne is all about," said Cologne Mayor Henriette Reker, adding how pleased the city is that they were able to win Philipp Geist for the task.
'Time Drifts Cologne'
The internationally renowned Berlin-based light artist plans to illuminate the ground skirting the cathedral, the adjacent square and several massive buildings, including a museum - as in the computer simulation above. Geist's multi-media project "Time Drifts Cologne" involves colors, shapes and words, borrowing from a concept the artist has successfully implemented in other cities around the world. The people of Cologne have been asked to chip in with proposals for words they associate with their city.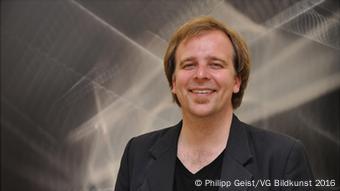 The scale of the Cologne project is a challenge, says Geist
"It's a large space, so that's a challenge, but I'm really looking forward to it," Geist told DW, adding that Cologne's 13th century Gothic Cathedral is one of his favorite places in Germany. "It's a fantastic place for an art installation."
Shapes, lights and words will be projected on the ground, and show up in a haze on people's bodies. Colorful, and fluid, the images and text will be visible to all as perspectives and angles shift, along with an underlying ambient sound. The brightly lit cathedral will tower over the installation, "solid as a rock," while the ground will slowly begin to appear as though it is drifting, the artist said.
Complex projections
In 2015, Geist realized the "Gate of Words" video mapping installation at the Azadi Tower in Tehran. "Hidden Places" was the name of a light show put on by the artist in Dhaka. Geist also illuminated Rio de Janeiro's huge statue of Christ the Redeemer as well as the Santa Marta favela.
One of Geist's many illuminations worldwide: Rio's Christ the Redeemer statue
He says the authorities in Cologne have made a wise decision in choosing to counter the images and memories of New Year's Eve 2015 with light art instead of simply focusing on a huge police presence and other security measures at the popular spot.
Last year, reports of hundreds of thefts and sexual assaults on women by men of mainly North African origin at Cologne's New Year festivities shocked Germany and became headline news around the world.
Safe and civilized
Geist is confident his installation will ensure "different images from those that went around the world after the past New Year's Eve." Rather than staying away, the city is inviting people to head downtown for this year's event, to join in and open up to "positive emotions," Geist said. The illuminations will begin at 5 pm on New Year's Eve and continue until midnight.
For security reasons, the art project is limited to a specific cordoned-off area surrounding the cathedral. Visitors will not be permitted to bring fireworks into the area.