A dozen people were injured and 100 arrested in skirmishes after members of a far-right group attacked Afghan migrants staging a sit-in protest in Lesbos' main town of Mytilene overnight, police said on Monday.
Lesbos was a key gateway into Europe for almost a million migrants in 2015 and still suffers from severe overcrowding as the Greek government continues to grapple with solutions to the refugee influx.
A night of violence
Members of the far-right Patriotic Movement gathered late on Sunday evening on the central square of Mytilene, where 200 asylum-seekers were staging a protest against squalid living conditions.

Attackers threw bottles and lit flares and shouted "burn them alive" and "throw them in the sea."

Left-wing activists later arrived to defend the migrants and started fighting with the far-right supporters.

At least 10 people were hospitalized — mostly migrants — and none of the cases was serious, Greek state television said, quoting hospital officials.

Riot police moved in to disperse the crowd on Monday morning.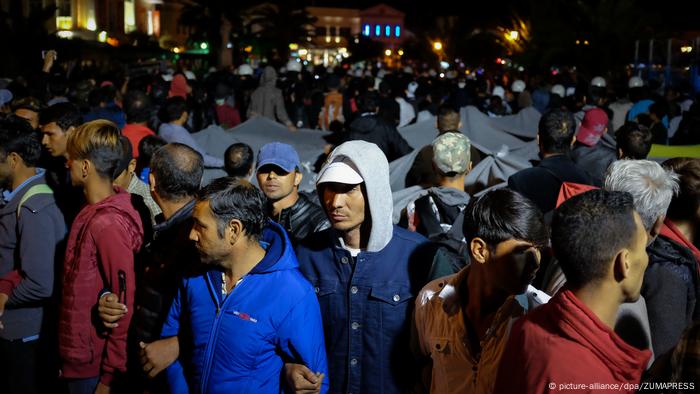 Police separate migrants and right-wing extremists at the island's main port
Organized or spontaenous?
"This was a well-organized action, with murderous intent, by specific extreme right, criminal and hooligan elements that have nothing to do with the island or its traditions," the governing left-wing Syriza party said in a statement.
The island's mayor Spyros Galinos said the protest was a "spontaneous reaction." He added, however: "If persons of extreme ideological beliefs took part in this reaction, it was to be expected."
"For the last three years, Lesbos has been experiencing an unprecedented situation. It's carrying a huge burden," Galinos told Greece's Skai TV. "I'm trying to convince the government that Lesbos cannot carry this burden indefinitely."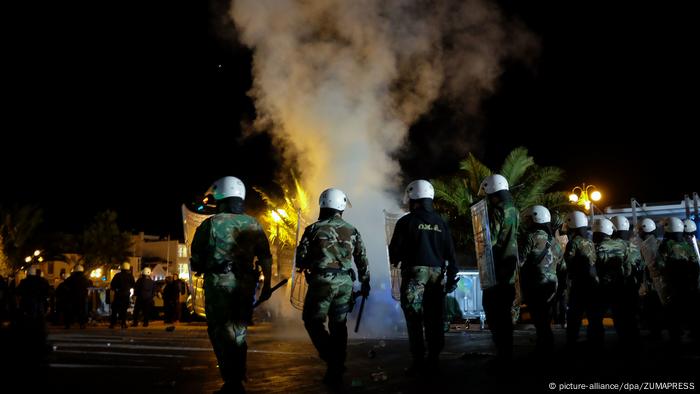 Authorities on the Greek island of Lesbos said at least 10 people were hospitalized in the clashes
What's behind the protests? The protest began after a Greek high court ruled last week that migrants arriving on the Greek islands from Turkey could travel to the mainland while their asylum applications were being processed. However, the ruling did not have retroactive effect and those migrants already there were not allowed to leave.
How many migrants are affected? Over 13,000 migrants are still in camps on five Greek islands until their asylum claims can be processed. Greece recorded 58,661 asylum applications in 2017.
How bad is overcrowding? Lesbos is home to 6,500 migrants, far more than the 3,000 places available in the island's camps.Arrivals have slowed since an EU deal with Turkey in 2016, but the island's main camp, Moria, is reportedly holding double the number of people it was intended for.
Call to action: Galinos has urged central government in Athens to reduce overcrowding at camps on Lesbos and other islands, telling ministers of migration affairs and public order that "Lesbos can't take this any longer."Prime Minister Alexis Tsipras is planning to visit Lesbos shortly.
Each evening at 1830 UTC, DW's editors send out a selection of the day's hard news and quality feature journalism. You can sign up to receive it directly here.
jbh/rt (AP, AFP, Reuters)