Lesbos' citizens were hailed for their compassionate response by everyone from Pope Francis to UN Secretary General Ban Ki-moon, Queen Rania of Jordan and Angelina Jolie. But praise from such global luminaries has not helped restore the island's tourist trade, with many foreign visitors seemingly put off by the migrant influx. "We were bracing for a difficult season after the migrant crisis but it's even worse than we could imagine," said Marilena Gourgoutzi, staring at the empty tables in her restaurant in the normally bustling port village of Molyvos.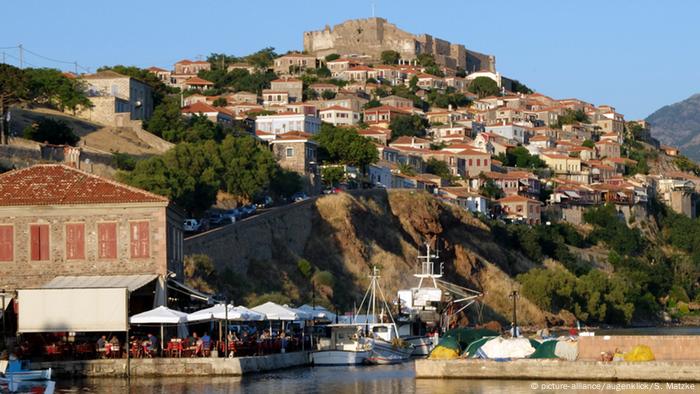 The Harbour of Molyvos Mithimna
Hotel operators say that only one in 10 rooms is occupied and tourism business is down 64 percent compared to last June, according to the local chamber of commerce. "It's unfair," said chamber chairman Vangelis Myrsinias. "All those who thanked the inhabitants of Lesbos for lending a helping hand to the refugees should visit our island," he added. Over 800,000 refugees and migrants, mainly from war-torn Syria but also Iraq and Afghanistan, passed through Lesbos last year en route to northern Europe.
Hotel owner Theodoros Vathis, 74, remembers days when 400 people would arrive at once, and he would help drive entire families to a registering centre in his van. "At the time there were no aid groups present, we were the ones to give them clothes and food," he said.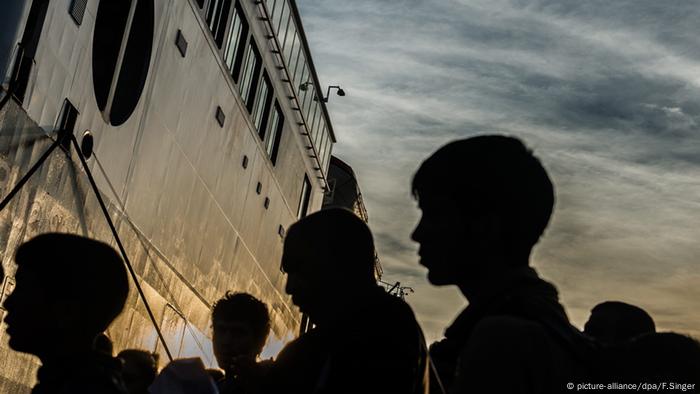 Refugees and migrants line up to board a ferry at the port in Mytilini
A deal between the EU and Turkey in March drastically reduced the flow to a few dozen arrivals daily, but the damage was already done.
Faced with Europe's greatest migration challenge since World War II, several EU countries opted to shut their borders to migrants early this year, trapping over 57,000 people in Greece. Images of beaches littered with discarded lifejackets and torn dinghies, though no longer accurate, continue to hurt the island's image, said Gourgoutzi, the restaurant owner. "Foreign clients tell me that certain news outlets are still showing last year's footage with drowned migrants, and dirty beaches which have now been cleaned up," she told.
Island mayor Spyros Galinos said that charter arrivals fell from 27 to just nine per week, and that despite crisis-management efforts, summer season arrivals were expected to drop to 80,000 from 120,000 previously on average. Instead of Germans, Britons and Dutch, Lesbos had hoped at least to fall back on visitors from neighbouring Turkey, even for short three-day trips. But the failed July 15 coup against Turkish President Recep Tayyip Erdogan changed that too.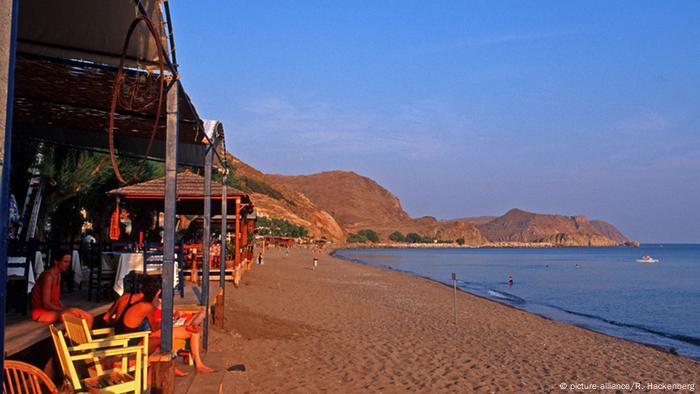 The beach of Skala Eressos
As Turkish authorities began a purge in search of the plotters, over 10,000 people have been detained, thousands more have had their jobs suspended, a state of emergency has been imposed and annual leave for civil servants has been cancelled. "Two weeks ago we were full of Turks for the end of Ramadan," said Gourgoutzi. "But after the recent events there has been a clear drop," she added.
Jeweller Yiorgos Frangoulis last year offered a cut of his earnings to aid groups helping to bring succour to refugees. This year, he says he'll donate the money to organisations helping poor Greeks. "It's the fault of our government which allowed such a great number of migrants to arrive in Greece but at the same time increased taxes," says Vathis, the hotel owner. "And it's also the fault of journalists - Greek and foreign - who only broadcast images of misery from Lesbos," he says.
lg-hec/jph/cw/har (AFP)