On Saturday, Latvians head to the polls to vote on a proposition that divides the country: whether Russian should be made Latvia's second official language. It pits a Latvian majority proud of their mother tongue and wary of Russian cultural encroachment against a long-standing Russian minority who feel they've been made second class citizens - or in some cases, not citizens at all - in large part down to their language.
Latvia's Russian minority makes up a little more than a quarter of the country's population of 2 million. Some Russian families have lived there for centuries, while more arrived in the Baltic state when it was a Soviet republic, put down roots there, and then stayed on after the breakup of the Soviet Union.
Last year, a pro-Russian NGO called "Mother Tongue" launched a petition drive and managed to collect more than 187,000 signatures by the end of November - enough to put the matter of recognizing Russian as an official language up to a referendum.
Critics say the plebiscite will only widen the gap between Latvians and the Russian-speaking minority in the country, but many within that minority say they've simply had enough.
Among them is 47-year-old surgeon Maksims Margolins. He explains, in Latvian, that, "Despite being a citizen of Latvia, I and many other people like me have been excluded from the country's decision-making process during the last twenty years."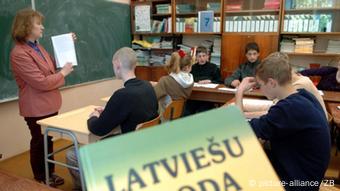 Latvian language instruction is compulsory throughout the country
Maksims was born in Latvia when it was under Soviet rule. He calls himself a "taxpaying citizen of Latvia" and says he has no desire to erase the country's two decades of independence, but would like it if the government would allow him to speak with his patients openly in Russian.
Backfired plan
The push for Russian as a second official language began as a counter-movement. A Latvian nationalist opposition party attempted, unsuccessfully, to end bilingual education at state-funded schools with a significant proportion of Russian speakers.
The argument was that learning Latvian is a struggle for many students, and they might be tempted to fall behind in their Latvian lessons if they had Russian to fall back on.
"If Russian was established as the second official language, then the people who are reluctant to speak Latvian would not be motivated to learn the language in the future," said Sarmite Pavulena of the Latvian State Language Centre.
That concern has become more pressing in recent years, especially as anecdotal evidence piles up that more and more job seekers who can only speak Latvian are being discriminated against in the job market.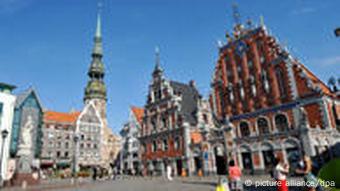 Riga attracts the best and brightest - many of them Russian
"If you look at Riga and other large cities then you'll see that most of the people speak Russian and Latvians are a minority. Pick any shop you want - you'll mostly hear Russian there," Pavulena said.
Citizenship conundrum
For all the worry among Latvian speakers, the pro-Russian referendum itself is almost certain to fail. That is largely because, of the more than half-a-million-strong ethnic Russian population, about half are not citizens, and therefore ineligible to vote. They are permanent residents who must first pass a Latvian language exam and relinquish their claim to a Russian passport before becoming citizens.
The situation is creating a dual-track society that affects children in particular, say some observers.
"The fact that we have seventeen and a half thousand such children means that we are not reducing the number of non-citizens - we are creating a new population of non-citizens," said Anhelita Kamenska, the head of the Latvian Centre for Human Rights.
She is skeptical of claims that Latvian is an endangered language because of bilingual education, adding that she has "no doubt that these children will end up speaking Latvian when they finish school.
Campaigns for and against Russian instruction can get heated
Kamenska proposed granting automatic citizenship to non-citizen children, "to help to bring down barriers between the Latvian and Russian communities."
Another Latvia
Other thinkers see the fact that Latvia is debating language and citizenship issues as part of a wider trend in European politics and society.
"Latvia is a limited case of sorts but, I mean, we can see this happening elsewhere. There are limits to European integration in France, there are limits to integration in Germany," said Dace Dzenovska, a social anthropologist at the University of Latvia. "Because at the foundation of these states still is, to some extent, the idea of a national state."
Dace Dzenovska thinks that sooner or later the countries will have to find another way aside from a common language of binding their people together.
"This is a serious invitation to rethink the meaning of a national state - not only in Latvia, but in Europe."
Author: Gederts Gelzis / mrh
Editor: Gabriel Borrud