EU agreements require Germany to fully open its job market to the bloc's eastern workers as of May 1, marking seven years since the European Union's 2004 'big bang' expansion bringing 10 mostly ex-communist states of eastern Europe into the fold.
The prospect of being able to work in Germany is one of the big advantages of EU membership as far as many Latvians are concerned.
The chance to earn better wages and experience life abroad are particularly attractive to many of the country's young people. A leading commercial TV channel has even launched a new series about migrant workers in Germany.
However, in a country that was hit particularly hard by the global financial crisis, there are fears that Latvia is on the brink of a damaging economic emigration crisis.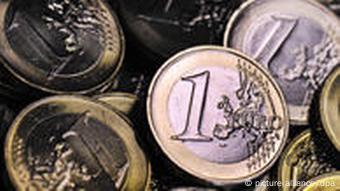 The chance to earn German or Austrian euros is attractive to many Latvians
Even before freedom to work in Germany and Austria comes into force, the Latvian economy is already suffering from a lack of workers in certain fields according to the Latvian Foreign Ministry's Ambassador-at-Large Juris Audarins.
"We are losing manpower and it says everything. We already know that it's a problem for Latvian entrepreneurs to find a skilled people still in Latvia," he said.
"It's very, very important for the Latvian economy not to lose so many people - and skilled people."
'Long-term social problems'
Lija Strasuna, a senior economist at the Swedish bank Swedbank believes that, further down the road, there could be problems for the state and society.
"In the short term, if unemployed people emigrate then it might seem that there's a benefit because of the diminished costs for the budget. But if the person doesn't come back afterwards then it creates problems in the long term."
"It increases social burdens, it decreases the pool of those people available here who pay taxes and sustain the budget."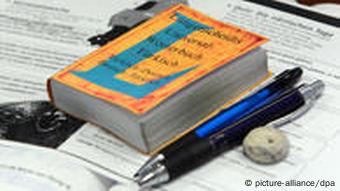 German is an increasingly popular option offered by language schools
A survey carried out in February showed that a third of all Latvians are planning to look for a job abroad. According to Latvia's state employment agency, most of the country's potential emigrants to Germany are not highly skilled workers. They aim to find work in agriculture, catering and as nursing assistants.
In industries like these, though, there is some potential for abuse. Many such workers have already been lured into the country by unscrupulous recruiters who promise them better wages and working conditions than they can deliver - and they end up working without proper documentation.
Feeling of disillusionment
55-year-old Ligita Snorina looks after a disabled elderly woman in the town of Martinsthal in the south-western part of Germany, and is feeling disillusioned.
"The economic situation in Latvia forces me to do a job like this. I have two Bachelor's degrees and a Master's degree in pedagogy as well and, frankly speaking, the work I do - changing the nappies for the elderly - is embarrassing to me."
Girts Semevics, a 46-year-old graphic designer from Latvia has been working as a courier at a shipping company in the state of Hesse. He says there is no need to miss the comforts of home.
"There's a Ryanair airport not far from the place where I live and I can fly home to Riga once a month, if I have a free weekend."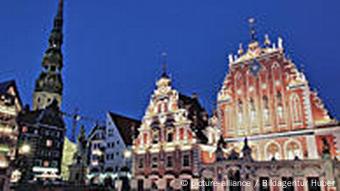 The joys of home are not so far away for Latvians working in Germany
He adds that due to strict registration rules for newcomers in Germany, there will not actually be a new wave of emigration from Latvia.
Another reason, Semevics says, is that not many Latvians speak German - although German language schools have seen an upturn in demand. Student numbers at the Berlitz language centre in Riga, the Latvian capital, have more than doubled in recent years.
Gone for good?
Aija Lulle, a migration researcher at the University of Latvia, is skeptical that any major exodus will take place - at least on a long-term basis.
"It's very misleading to think that people emigrate and then stay for good in those countries," said Lulle. "Actually, as I see it, people rather travel back and forth in what we can call a circular migration or transnational migration."
While the experts are busy analyzing the possible scenarios, yet another Latvian has left the country. Ligita Snorina won't be alone in Germany any more; in the quest for a better-paid job abroad, her husband Aivars has decided to join her.
Author: Gederts Gelzis, Riga / rc
Editor: Rob Turner