German energy concern RWE is preparing to clear out trees from the 12,000-year-old Hambach Forest after police removed the last remaining activist treehouses on Tuesday.
With protesters out of the way, the company is moving to secure the area by digging out a 1-1.5 meter (3.3 to 5 feet) trench along a part of its border. Workers also roped and taped off other parts of the forest, complete with "keep out" signs. By sealing off the area, the German company has the legal right to prosecute protesters as trespassers.
Read more: Hambach Forest is a battleground for climate action
"We will not stand for people getting inside and occupying the forest again after the removal (of protesters) was apparently finished today," RWE spokesman Guido Steffen said on Tuesday.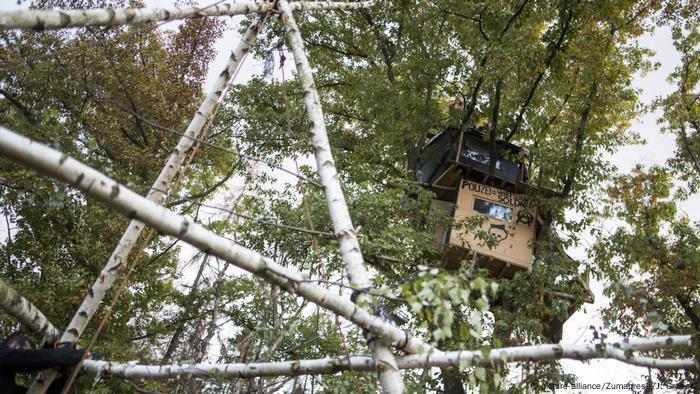 The activists' treehouses in Hambach Forest have been removed
RWE to start clearance
The widely publicized conflict between the coal mining company and environmental activists saw thousands of people rally to preserve ancient woods across Germany.
The activists also camped in the forest in dozens of the specially-built treehouses.
Three weeks ago, police deployed a large force to remove the activists and dismantle around 60 of the wooden houses.
On Monday, police raided the camp, accusing protesters of building more treehouses in secret. Around 80 of the improvised shelters were removed by Tuesday.
Activists trying to save Hambach Forest have been removed by police
Read more: Stillness and schock in Hambach Forest after journalist dies
The company said the newly erected barriers were placed for "security reasons" but were not "martial" reinforcements against the protesters. They would also serve to keep people safe once the deforestation starts, according to the RWE.
The energy concern refused to specify the exact starting date for removing the Hambach Forest trees.
There was also a "high degree of probability" that police would stay deployed in the area, according to a police spokeswoman.
Read more: German energy executive severely injured in acid attack
Greens: 'not necessary' to destroy the trees
Environmental activists are preparing another large protest for Saturday.
They are supported by Green party lawmakers in North Rhine-Westphalia state where the forest lies. On Tuesday, senior Green deputy Monika Düker admitted that the German energy giant had a legal right to go ahead with its plans.
"But it is not necessary to go through with it," Düker said, pointing to Germany's plans to eliminate coal as an energy source.
On Sunday, RWE CEO Rolf Martin Schmitz said there was "no possibility" of sparing the forest.
dj/jm (AFP, dpa)
Each evening at 1830 UTC, DW's editors send out a selection of the day's hard news and quality feature journalism. You can sign up to receive it directly here.