The World Wide Fund for Nature (WWF) is calling on the Indonesian government to take action to prevent the extinction of the Sumatran elephant in the wake of the animal's recent listing as critically endangered.
"The last surviving elephants may soon disappear," said Anwar Purwoto of WWF-Indonesia, which is calling for a moratorium on converting elephants' habitats on the island of Sumatra.
Logging and palm oil plantations, producing some of the world's highest rates of deforestation, have reduced elephant numbers in some areas of the island by up to 80 percent in the past 25 years, the wildlife organization said.
In one generation, Sumatran elephants may have lost up to half their numbers and 70 percent of their territory, according to the WWF.
It warned that at current rates, Sumatran elephants face extinction in the wild within 30 years.
Elephants' status worsens
The International Union for Conservation of Nature recently upgraded Sumatran elephants, a subspecies of the Asian elephant, from "endangered" to "critically endangered" on its Red List of threatened species.
Its experts estimate that over two-thirds of the elephants' habitat has been lost in the past 25 years because lowland forests have been turned into villages or plantations.
In 1985, an island-wide survey suggested that between 2,800 and 4,800 elephants lived in the wild on Sumatra. In 2007, this estimate was reduced to a maximum of 2,800.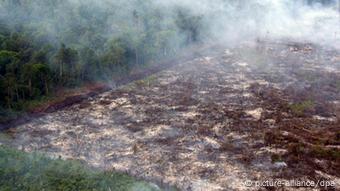 Sumatran forest has been cleared for paper and oil palm plantations
The loss of their territory has also brought elephants into direct conflict with humans seeking to protect farms and communities. Locals have killed elephants as a result.
'Stop plantations, build corridors'
Wildlife monitors say that while the elephants are protected under Indonesian law, almost all their habitats are outside protected areas.
The WWF says that until a conservation program can be established, a moratorium on land conversion should be introduced in all areas where the Sumatran elephants still live. In addition, it says smaller habitats should be linked with larger areas via wildlife "corridors."
Sumatra is thought to hold some of the most significant numbers of Asian elephants outside India.
Carlos Drews, Director of WWF's Global Species program emphasized that the Sumatran elephant is not the only threatened species in Indonesia menaced by deforestation.
"It joins the Sumatran orangutan, the Javan and Sumatran rhinos and the Sumatran tiger," Drews said.
Author: Andrea Rönsberg
Editor: Nathan Witkop