A meeting between Iraqi President Fuad Masum and his Kurdish counterpart, Masud Barzani, was held in Sulaymaniyah after a deadline set by the Iraqi government for peshmerga fighters to surrender expired on Sunday, Iraqi media reported.
After meeting with Iraqi officials on Sunday, Barzani said his government had rejected Baghdad's demand to cancel the outcome of an independence vote and pledged to defend the autonomous region in case of an attack.
Kurdish leaders, however, renewed their offer to resolve the crisis peacefully with Baghdad, Barzani's aide Hemin Hawrami said on Twitter.
"There will not be any unilateral negotiation with Baghdad by either PUK or KDP. If there be any negotiation with Baghdad it will be a joint delegation representing all Kurdistan parties. KDP/PUK reject any demands to nullify the referendum results. Refuse preconditions," Hawrami said.
Iran's mediation efforts
According to a Kurdish official, Major General Qassem Soleimani, commander of foreign operations for Iran's elite Revolutionary Guards, also arrived in Iraq's Kurdistan region to defuse tensions between Kurdish authorities and Baghdad following the Kurdish independence referendum.
Iran's Tasnim news agency, without quoting a source, said Sunday that Iran closed its border gates with northern Iraq "considering the development in Iraq's Kurdistan."
Iran's Foreign Ministry later denied reports about the border closure.
"As we announced earlier, we blocked our airspace to the Kurdish region on a request from the central government of Iraq, and as far as I know, nothing new has happened in this area," the Iranian Students' News Agency (ISNA) quoted Foreign Ministry spokesman Bahram Qassemi as saying.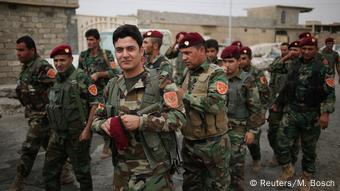 Kurdish fighters have reportedly rejected the Iraqi warning to withdraw from Kirkuk
Escalating crisis
The Kurdish forces were given a deadline of 2 a.m. local time Sunday (2300 GMT Saturday) to surrender their positions and return to their pre-June 2014 positions. Unconfirmed local media reports say the deadline has been extended for another 24 hours.
At the scene, a photographer with Agence France-Presse reported seeing armored vehicles bearing the Iraqi national flag on the banks of a river on the southern outskirts of the city of Kirkuk.
"Our forces are not moving and are now waiting for orders from the general staff," an Iraqi army officer told AFP.
Facing the Iraqi forces on the opposite bank of the river were Kurdish peshmerga fighters.
On Friday, Kurdish authorities said they had sent thousands more troops to Kirkuk to confront Iraqi "threats."
Reuters news agency said Sunday Kurdish peshmerga forces had rejected the Iraqi warning to withdraw from a strategic junction south of Kirkuk.
Tensions soar after 'illegal' referendum
Tensions between the two allies in the war against the "Islamic State" (IS) have been escalating since a Kurdish independence referendum last month that Baghdad has called "anti-constitutional."
The Kurds overwhelmingly voted for an independent state in the September 25 referendum.
Read more: Opinion: Kurds find few friends in independence referendum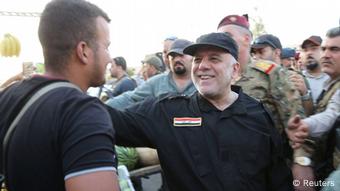 Abadi has repeatedly denied any plans to attack the Kurds
Iraqi Prime Minister Haider al-Abadi demanded that Kurdish leaders annul the referendum vote and called for a dialogue within the framework of the constitution.
After the referendum, the Iraqi parliament asked the prime minister to use armed force to retake control of oil-rich Kirkuk, claimed by both Iraqi Kurdistan and the Iraqi central government in Baghdad.
The Kurdish peshmerga prevented the province's oil fields from falling into the hands of IS jihadis in 2014.
The Kurdish regional government included the disputed oil-rich province in the independence referendum, reflecting the Kurds' historical claim to the area. Baghdad had controlled Kirkuk before IS pushed out the Iraqi army three years ago.
Read more: What is the Iraqi Kurdish independence referendum?
'No plans for a military operation'
Abadi has repeatedly denied any plans to attack the Kurds, insisting Thursday that he was "not going... to make war on our Kurdish citizens."
But thousands of heavily armed troops and members of the Popular Mobilization paramilitary force, formed mainly by Iranian-trained Shiite groups, have taken position around Kirkuk.
Kurdish peshmerga fighters also rejected a 2100 GMT deadline from the paramilitary force to withdraw from a strategic junction south of Kirkuk city, Reuters news agency reported, citing a Kurdish security official. The strategic position north of the Maktab Khalid junction controls access to an air base and some of the oil fields located in the region.
shs, ap/sms (AFP, Reuters)