Iraqi Kurds in the north of the country voted overwhelmingly for independence from Baghdad, according to the Kurdish High elections and Referendum Commission on Wednesday.
A reported 92.7 percent of the more than 3.3 million people who voted were in favor of secession. Voter turnout was just over 72 percent.
Read more: What is the Iraqi Kurdish independence referendum?
Iraq demands annulment
Iraqi Prime Minister Haider al-Abadi demanded Wednesday that leaders of the Iraqi Kurdish minority annul Monday's referendum vote on Kurdish independence as pressure mounts on Kurdish leaders.
"The referendum must be annulled and dialogue initiated in the framework of the constitution. We will never hold talks based on the results of the referendum," al-Abadi said.
Hours earlier, the Iraqi parliament asked the prime minister to use armed force to take control of the oil fields in Kirkuk.
The Kurdish Regional Government (KRG) has administered the multi-ethnic region ever since Kurdish Peshmerga prevented "Islamic State" militants from taking the oil fields in 2014. The KRG included Kirkuk in the independence referendum held on Monday, reflecting the Kurds' historical claim to the area.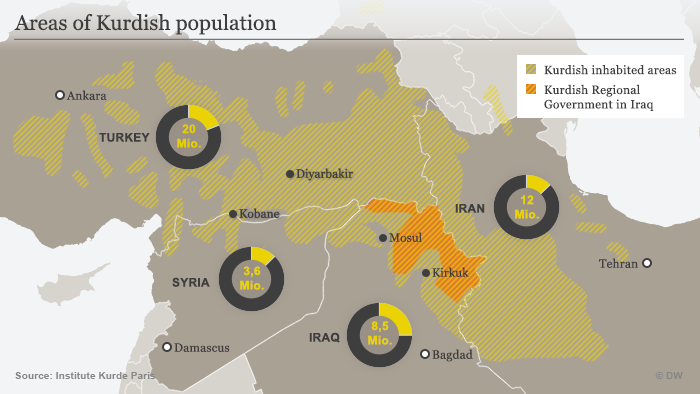 The Iraqi central government in Baghdad had however controlled Kirkuk before Islamic State routed the Iraqi army three years ago. It remains unclear when troops will be deployed to the area.
KRG leader Massud Barzani tried to defuse tensions Tuesday evening in a televised address by saying the vote was not meant "to delimit the border, nor to impose it de facto." He assured "the international community of our willingness to engage in dialogue with Baghdad," and added that al-Abadi should "not to close the door to dialogue because it is dialogue that will solve problems."
KRG isolated
On Tuesday, al-Abadi demanded the KRG place the airports in Irbil, the Kurdish capital, and Sulaimaniyah in the east of Iraqi Kurdistan under central government control. Failure to do this would lead to a ban on all international flights to and from Kurdistan in three days, he added.
But Iraqi Kurdish Transport Minister Mawlood Bawa Murad said Wednesday his government rejected that demand. "The Irbil and Sulaimaniya airports belong to Kurdistan and they continue to work as normal," he told reporters. "The demand of the Iraqi government to hand over airports is inappropriate and incorrect."
EgyptAir and Middle East Airlines announced Wednesday that they would stop flying to Irbil this week. The Turkish consolute in Irbil said Turkish Airlines, Atlas and Pegasus, which fly frequently between Iraqi Kurdistan and Turkey, will suspend those connections on Friday.
Read more: Opinion: Kurds find few friends in independence referendum
Escalating regional tensions
Turkey and Iran – also home to large Kurdish populations - have also joined Iraq in condemning the vote.
On Wednesday, the Iraqi military said an Iraqi army delegation had visited Iran "to coordinate military efforts," but did not disclose more details about what was discussed.
Iraq has already conducted joint military drills with Turkey along the Iraqi Kurdistan border. Iran and Turkey have also reportedly conducted joint military exercises near their respective borders with the northern Iraqi province.
Turkey, which is home to the largest Kurdish population in the region, has been most vocal in opposing the vote. President Recep Tayyip Erdogan warned Tuesday that Iraqi Kurdish independence risked sparking an "ethnic war."
"If Barzani and the Kurdistan Regional Government do not go back on this mistake as soon as possible, they will go down in history with the shame of having dragged the region into an ethnic and sectarian war," he said.
Erdogan had previously threatened to stop oil exports from Iraqi Kurdistan and hinted it may consider military intervention to preclude an attempt for independence.
amp/kms (dpa, Reuters)