In Ingushetia last Saturday, Bashir Aushev, the vice premier under former President Murat Zyazikov, was gunned down in the former regional capital of Nasran. Islamist rebels are believed to be responsible for the shooting. Aushev's death came just days after the deputy chairwoman of the country's Supreme Court was shot dead on June 10.
Also last Saturday, two policemen were killed in the latest resumption of fighting between rebels and pro-Moscow forces in Chechnya. The officers died during a shoot-out with a group of 15 rebel fighters in a forested area near the eastern village of Alkinchu-Borzoi, less than two months after the Kremlin's decision in April to end a decade-long "counter-terrorist operation" in the region.
A day before that, two members of the security forces and two rebels were shot dead in separate incidents in Dagestan.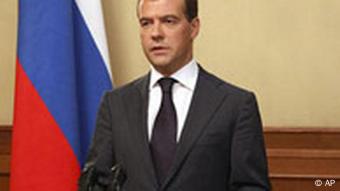 Medvedev expressed concern hours before another murder
These killings came just hours after Russian President Dmitry Medvedev flew with his top national security officials to Dagestan for a special meeting. Medvedev's visit followed the assassination of the region's interior minister, Adilgerei Magomedtagirov, who was shot dead by a sniper in a brazen daylight attack during the wedding of a colleague's daughter.
Some analysts believe that rebel forces in these unstable regions are taking advantage of Moscow's preoccupation with issues closer to home and the perceived belief in the Kremlin that as long as the instability remains localized it remains a problem for the provinces' authorities to deal with.
But Moscow is in danger of slipping into a false sense of security. After returning stability of sorts to Chechnya after two devastating wars and installing former rebel Ramzan Kadyrov as its proxy leader in Grozny, some believe the Kremlin is under the impression that the threat from the region is minimal.
Moscow turns a blind-eye to southern murders
"Russia's policy is one part turning a blind-eye and one part containment," Andrew Wilson, a Russia expert at the European Council on Foreign Relations, told Deutsche Welle. "The Moscow elite think that murders in the south aren't a problem. It would only be a problem if it spilled into Diaspora killings in Moscow."
"Kadyrov has been testing Moscow's limits by targeting his enemies all over the globe but he has a certain license because the claim of stability in Chechnya is all important to the Kremlin. For the other republics, as long as it remains local, Russia lets it fester. It's likely that this festering will get a lot worse," Wilson said.
There is a growing consensus that the unrest which is growing in these regions has much to do with the Kremlin's policy of handing control to local elites to try to stem disorder.
At the end of the second Chechen war, the Kremlin made a decision to effectively contract out the running of the ethnically diverse regions. If local leaders could provide relative peace and stability, the Kremlin would give them a free hand.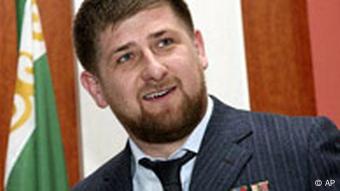 Kadyrov has been left to his own devices in Chechnya
"Russia was dealing with the devil when it came to Chechnya," said Wilson. "Clearly Kadyrov is a leader who is most problematic. He's running free and is a law unto himself. He is a problem in at least two ways. He sets a very bad example by constantly pushing the limits of what's possible. Secondly, there has been a certain displacement effect where he has pushed radicals and his enemies out of Chechnya into the neighboring republics and they of course cause trouble elsewhere."
Commentators say the Kremlin is nervous that it has allowed Kadyrov to accumulate too much power amid the mass withdrawal of Russian servicemen after the last war. They are also worried that Kadyrov has launched a drive to Islamize Chechnya, with unpredictable long-term consequences.
"There is some evidence, albeit partial and contradictory, that radical Islamic networks are spreading through the region," Wilson admits.
But Kadyrov's Chechnya is a relative oasis of calm compared to Ingushetia and Dagestan.
Weak, puppet leaders failing to stop bloodshed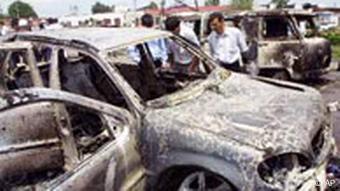 Car bombs and shootings are rife in Ingushetia
Ingushetia, one of Russia's smallest and poorest regions, has seen such a marked increase in violence that the Kremlin dismissed Murat Zyazikov, the unpopular president, and installed Yunus-BekYevkurov as his replacement. However, observers say that Russia gave Yevkurov the position but not the power and faced with an economy on life-support and a rebel movement growing in size and ambition, the new president has also failed to stem the bloodshed.
Dagestan, the largest and most ethnically diverse of the three regions with a population of over 2.5 million, is also causing serious concern. The level of violence in the region has eclipsed that of Chechnya in recent months.
President Mukhu Aliyev, a popular choice when appointed in 2006, has proved a weak leader, allowing Islamists to step into the power vacuum.
Kremlin reaping what it has sown in southern region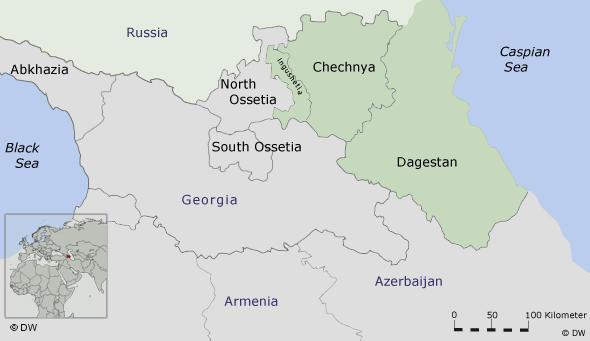 "Dagestan is really a powder keg," Oslo-based International Peace Research Institute analyst Pavel Baev said. "All kinds of fuses are burning. The federal center has convinced itself that the Chechen war is over, that the threat from the region has fallen to the degree that it is now localized but instability is growing. It could take a major attack in Moscow to force them to take the region seriously again."
"Russia is reaping what it has sown in its Chechnya-ization of the region," said Wilson. "You have leaders like Kadyrov at one end of the scale, who are almost totally independent, and at the other end you have those weak, powerless leaders who are really just Kremlin puppets. In between you get this dangerous mixture of local strong men overseeing networks of corruption which are often strongly ethnicized in a region which is an ethnic melting pot."
"This spring the situation has got worse in Dagestan, in Chechnya and in Ingushetia," said Alexei Malashenko, an expert on the region with the US-funded Moscow Carnegie Center. "The Kremlin's system is simply not working".
Author: Nick Amies
Editor: Rob Mudge