President Uhuru Kenyatta's staff did not waste any time touting the success of the Kenyan leader's visit to Washington. Before the ostensible highlight of the trip - the meeting with President Donald Trump in the White House - had concluded, they had already published a press communique boasting that Kenyatta had signed deals worth more than $200 million during his visit to the American capital largely related to infrastructure projects.
The speedy rollout of the announced deals were entirely in line with Kenyatta's primary goal for his first visit to Washington under President Trump, namely to strengthen economic ties with the US. In a way, the US capital was the first stop of an international road show meant to foster deeper economic ties with key global partners. Later this week, he is scheduled to host British Prime Minister Theresa May.
Read more: Kenya: Government 'maintains stranglehold on media'
The second goal for Kenyatta, and also a key aspect for Trump, was to boost US-Kenyan security cooperation, particularly in the area of counter-terrorism operations. Kenya, from Washington's perspective, is seen as a crucial player in the fight against the Somalia-based terrorism group Al Shabab.
But while trade and security were the key issues publicly advanced by both the White House and the Kenyan President's office ahead of and during the meeting, they did not tell the story of the meeting, noted John Campbell, a former US ambassador to Nigeria and now senior fellow for Africa policy studies at the Council on Foreign Relations in Washington.
"I think for both this visit was important in the perspective of restoration of image," he said. Kenyatta came to Washington on the heels of an extremely controversial election last year that almost led to a civil war, explained Campbell.
That election, which Kenyatta eventually was to have declared to have won by a margin of 98 percent, left his reputation deeply tarnished internationally. "For Kenyatta the very fact that he is received at the White House helps a bit in terms of refurbishing his reputation," said Campbell.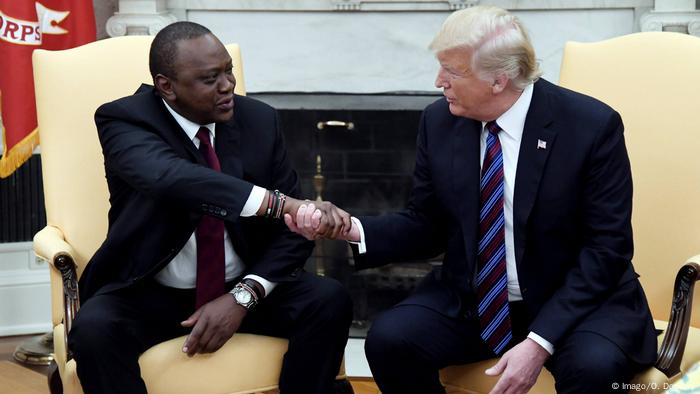 President Trump welcomed his Kenyan counterpart Uhuru Kenyatta to the White House to talk trade and security
Trump, meanwhile, for his part has his very own reasons to try to boost his reputation vis-à-vis Africa, said John Mukum Mbaku, an economist and Africa scholar at Weber State University.
"For the Trump administration this is very important because there has been a lot of criticism, especially out of Africa, that this president has totally neglected a very important part of the world," Mbaku said.
Many would argue that Trump has not just neglected, but deliberately disparaged Africa. Just in the last week Trump has made negative headlines involving Africa twice. A few days ago he created a big stir when on Twitter he asked his secretary of state to look into a false claim of mass killings of white farmers in South Africa.
Read more: Donald Trump's lack of interest in Africa
And coinciding with Kenyatta's meeting with Trump, a Financial Times story claiming that Trump had described Nigeria's Muhammadu Buhari as lifeless after their meeting in April made headlines in many African media outlets. And of course earlier this year in a conversation about immigrants Trump had reportedly labeled several nations, including at least one African country as "shit hole countries."
Trump's apparent disinterest in the continent, which he has not yet visited, is problematic, because it has very practical consequences, said Grant Harris, the former principal advisor to President Barack Obama on African issues.
Harris argued that the US Africa policy is currently adrift as the Trump administration has walked back US efforts with respect to governance and human rights, vacillated in terms of its commitment to security cooperation, and proposed cuts to US agencies that provide financing and political risk insurance and tools that support American investment.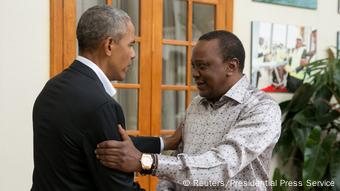 Former US President Barack Obama met with Kenyatta briefly this past July
"Overall, we have really seen retrenchment since President Trump came to office and he has not been forceful in setting forth any kind of strategic coherence and direction", said Harris.
John Mukum Mbaku, the economist and Africa scholar at Weber State University, agrees that the Trump administration still lacks a coherent strategy for the continent and that Trump's only interest in Africa appears to be fighting terrorism.
"But I think that would be a terrible mistake primarily because if you think of the fact that one of the reasons you have a lot of extremism in some of the African countries has to do with poverty. And I think that having the US engage with Africa in terms of investment and development, economic growth would actually be a much more robust way to counter terrorism," Mbaku said.
But even the Trump administration wanted to, noted the experts, it would be difficult for this scandal-ridden White House to be taken serious on key issues like good governance and human rights that Washington has traditionally advocated for.
"I think the Trump administration has exceedingly little credibility to talk about transparency and similar initiatives in Africa and I have heard private stories from diplomats being laughed at in raising such points and being told by African leaders you need to look at what your own president and your own White House is doing," Harris said.