Wild animals in Australia, including iconic species like kangaroos and koalas, face not only habitat loss and predation by wild dogs and introduced foxes - they are also increasingly threatened by motor vehicles. A study by the Wildlife Information Rescue and Education Service, or WIRES, found that 7,000 native animals are killed each day in road accidents in the state of New South Wales. That adds up to an estimated 2.5 million deaths each year in just one state.
Besides dying, many animals are severely injured and young left orphaned by vehicle collisions. Thousands of these animals end up in the care of volunteer rescue groups such as WIRES. In fact, those who mostly look after injured wildlife are volunteers, who dedicate much of their own time and money to the cause.
Volunteer effort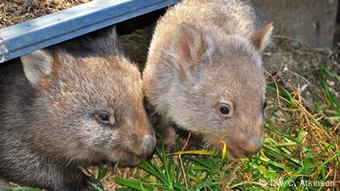 These baby wombats are among the animals in Janine Green's care
Janine Green, a motel manager on the south coast of New South Wales, has spent 15 years as a volunteer and cared for more than 1,700 animals in that time - including kangaroos, wallabies, possums, koalas, birds, turtles and penguins.
Green says most of the animals that end up in her care are the victims of road accidents. She is currently raising two young wombats whose mothers were both killed by vehicles. The babies were found alive in their mothers' pouches.
"The biggest one … had horrific injuries right down her back," she said. Both are now recovering. "[They are] drinking their bottles, eating grass, doing everything wombats should do," she said.
Road kill hot spots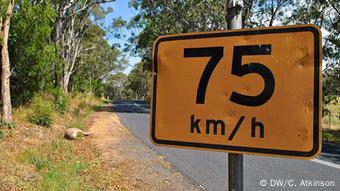 WIRES urges motorists not to leave an injured animal on the side of the road
WIRES has started erecting signs at busy traffic sections which the group has identified as "hot spots": animal corridors where accidents often occur. The group's publicity officer, Lois Katz, says she hopes the signs act as both a reminder to motorists to be careful and as a prompt for people to call WIRES should an animal be hit.
"We need to get the word out to save animals from such horrible deaths by carelessness - [we're] just trying to make people see common sense," Katz said.
The organization is also trying to educate motorists about stopping to check animals that have been hit and are lying on the side of the road, even if it looks like they have been there for some time. A baby marsupial, such as a kangaroo, wombat, possum or koala, can survive in its mother's pouch for several days after she has died.
Slow down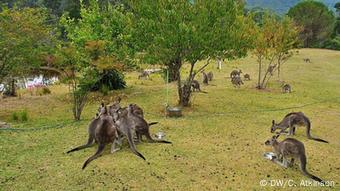 Iconic Australian animals like kangaroos are increasingly at risk from cars
Tricia Thompson, another volunteer, says city drivers and foreign tourists often do not realize the dangers of driving on roads in regional and remote areas.
Thompson said the risk of a collision is particularly high between dusk and dawn, when many animals come out to feed: "Animals are not used to the human protocol of roads, so their paths are often set for years and years," she said. "If a road is in the way, they just keep on going."
Katz said it can be difficult to get drivers to take notice of the warnings - but added that they will keep trying, for the animals' sake. "These animals are iconic," she said. "If [they] disappear, a huge part of how people think about Australia will go too."