Member states of the European Union will have to raise their contributions once the UK leaves in 2019, President of the European Commission Jean-Claude Juncker said on Monday.
"We need more than one percent of European GDP, quite clearly, if we are to pursue European policies and fund them adequately," said Juncker at a conference in Brussels.
This coming May, the commission, the European Union's executive, is going to present its budget proposal for the period after 2020. Ideally, they want to reach an agreement before European elections next year.
Read more:'Leave' champion Nigel Farage says EU doesn't get Brexit: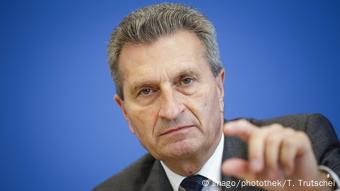 EU Budget Commissioner says, 'You'll have to contribute this much more.'
EU Budget Commissioner, Germany's Guenther Oettinger, said that Britain leaving the bloc would leave a shortfall of 12-13 billion euros ($14.3 - $15.5 billion).
Filling the UK-sized gap
This coming May, the Commission is planning to adopt a detailed proposal for the next multi-annual financial framework (MFF), which Oettinger said should be from 2021 until 2027.
Oettinger said he planned to deliver his message when he visits European capitals in the next several months.
So far, the EU budget has been capped at around 1 percent of the bloc's economic output. However political priorities, combined with the loss of Britain's funds, will require this ceiling to be lifted, said Juncker.
He pointed out that the EU budget costs the average taxpayer about a cup of coffee daily. "I am of the opinion that Europe is worth more than a cup of coffee a day," Juncker added.
The European Parliament and the European Council will negotiate the details before finally approving the budget. Unanimity in the council is required to pass the budget.
Tough negotiations ahead
The talks will be tough as member states usually seek to curb spending, while the European Parliament tends to push for more funds.
Oettinger warned that "big cuts" will be needed in some programs even as his commission says that they will need fresh revenue.
Some of those new demands include building a common European defense, the fight against terrorism and protecting borders as more and more refugees and migrants seek to enter Europe. There are also calls to increase spending on research and making the bloc's economy more competitive in the digital age.
Oettinger added that more money would also be needed to respond to natural disasters, which he warned will increase as a result of climate change. Southern Europe was plagued last year by forest fires.
av/se (Reuters, AFP, dpa)