Back in 2003, Japanese whisky was almost exclusively for the domestic market and even then was largely overshadowed by imported Scotch that was primarily prized for the price on the label. Then Bill Murray looked into the camera as he made an advert for a Japanese whisky brand in the hugely popular movie "Lost in Translation" and uttered the line – repeatedly – "For relaxing times, make it Suntory time."
Those few words caught the attention of the world's whisky-drinking community, who quickly realized that Japanese distillers were making some excellent whiskies. Very quickly, cases of brands produced by Suntory Spirits Ltd., Nikka Whisky Distilling Co., Kirin Brewery Co. and others were being shipped to New York, Paris and Singapore, while at home the image of whisky drinkers being sophisticated and well-to-do fueled a domestic boom.
The distillers reveled in the popularity of their product – at least until stocks of the most sought-after aged whiskies lasted. Unfortunately, that time has come.
Read more: Scotland sets minimum price for alcohol to fight drinking problems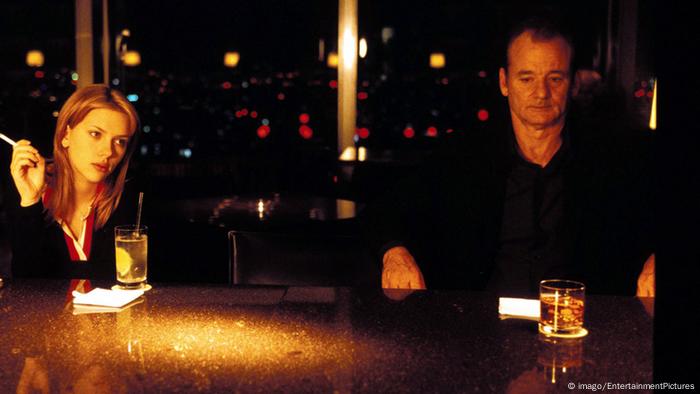 Hollywood movie 'Lost in Translation' played a big role in popularizing Japanese whiskies in the US
Suspending sales
Earlier this month, Suntory announced that it would have to suspend sales of two of its most popular whiskies, the Hakushu 12 years and the Hibiki 17 years, from this coming June. Stocks available at liquor stores were snapped up virtually overnight and bottles of the Hibiki, which retails for Y12,000 (€92.35) can now be found changing hands on specialist websites for five times that figure. Given the shortage, those prices are expected to continue to increase.
"We saw demand for these high-end whiskies start to rise from about 2006 but, simply put, demand has outstripped pace at which we can produce new stock much faster than we imagined," Hasumi Ozawa, a spokeswoman for Suntory, told DW.
"We have already started to increase production, but the problem remains the ageing process, which obviously cannot be changed," she said.
In 2017, the company exported 34.9 million cases of whisky, with each case containing a total of 8.4 liters of spirits.
And Ozawa confirmed that given the popularity of whisky, the company is "considering" launching new brands of whisky.
Other producers are experiencing a similar predicament. Nikka Whisky halted sales of bottles of its aged Taketsuru in 2014, followed by its Yoichi and Miyagikyo brands the following year. Kirin, which sells a number of brands, of which Fuji-Sanroku is the most popular, has also admitted it is facing problems meeting demand for aged whisky.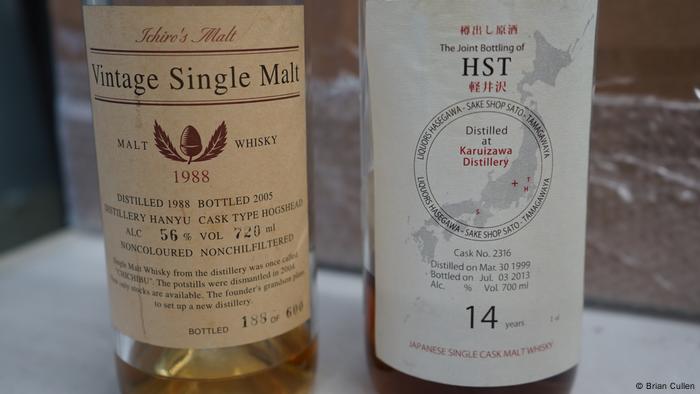 Japanese whiskies are in high demand in the US and Europe
Victim of their own success
Brian Cullen, an expert and founder of Japan Whisky Tours, says distillers have become victims of their own runaway success.
"The heyday for Japanese whiskies was the mid-2000s, when the rest of the world discovered some of the amazing single-cask whiskies being produced here," he said. "And they really announced their arrival when Japanese brands began to win international awards, beating the Scots at their own game."
In 2014, global whisky expert Jim Murray named the Yamazaki 17 the best in the world in his annual "Whisky Bible," with that recognition driving sales through the roof.
The same year, national broadcaster NHK produced a long-running drama series titled Massan, that told the true story of Masataka Taketsuru, who met his Scottish wife, Jessie Cowan, while serving an apprenticeship at Longmorn distillery in Strathspey in 1919 before returning to Japan to set up the Nikka Whisky Distilling Co. The series was a huge hit, particularly among women, and is credited with triggering an increase in domestic sales of whisky highballs, said Cullen.
"There was a new limited run of a Chichibu whisky released yesterday and it was announced in advance that the bottles would be available on their website at 12 noon," he said. "I was ready and hit the button at exactly noon, but I was already too late. The entire batch of 200 had sold out in less than 5 seconds."
For connoisseurs of whisky, the attention to detail that goes into making the drink in Japan is what put these brands in the highest echelons of whisky, says Cullen, such as the distilleries' insistence on using high-quality Spanish sherry casks.
Read more: UK must protect Scotch whisky post-Brexit, says Scottish official
Complex flavors
"And that means that the complexities of the whisky flavors is quite remarkable," he added. "Each is obviously different, but some of these 30-year-old whiskies have unique notes of sour plum or even tropical fruits."
The popularity of whisky has given rise to a number of producers who are ignoring the generally accepted requirement that whisky is aged for a minimum of three years – a legal stipulation in Scotland and a rule that Japanese distilleries generally stick to.
Such whiskies are acceptable when served in a cocktail, the experts agree, but the real thing should be savored with absolutely no distractions.